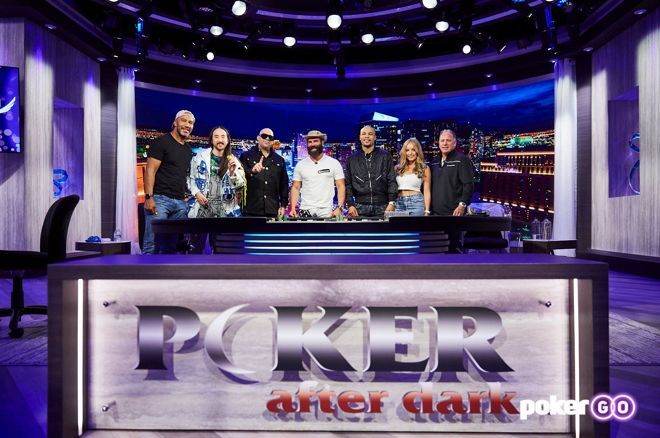 Season 12 of "Poker After Dark" on PokerGO put controversial social media star Dan Bilzerian in center stage last week for the first episode of "Blitz Week" against a crew of mainly recreational players.
That continued on Monday's episode, part two of the series. Near the end of the last episode, they kicked the stakes up a hair from $50/$100 to $100/$100 while keeping the $500 big blind ante in there as well. The minimum buy-in was $20,000. After a hot first session, Bilzerian had a stack that covered all of his opponents, about $65K.
Action heated up quite a bit compared to the last episode with several huge all-in pots.
Remember, an annual subscription to PokerGO costs $99.99, but you can save $10 off by using promo code "PokerNews" at checkout.
Big Bluff-Catch from Eubank Jr.
Two raggedy limps and a check happened in front of pro boxer Chris Eubank Jr., who looked down at
and made it $600 to go. World-famous DJ Steve Aoki peeled from the cutoff with
, as did fellow music industry head Jamal "Mally Mall" Rashid on the button with
.
Eubank Jr. showed his neighbors his cards and everyone watched an
flop arrive. Eubank Jr. continued for $1,300 and Aoki popped it to $4,000. Eubank Jr. went nowhere and they checked a
, with a
completing the board. Eubank Jr. checked and Aoki made a pot-sized wager of $10,000.
That was more than half of Eubank Jr.'s remaining stack and he thought awhile then tossed in a chip.
"I bluffed," Aoki admitted with a laugh as he slapped down his cards. "I missed."
Eubank Jr. grinned and showed down to scoop the $30,400 pot.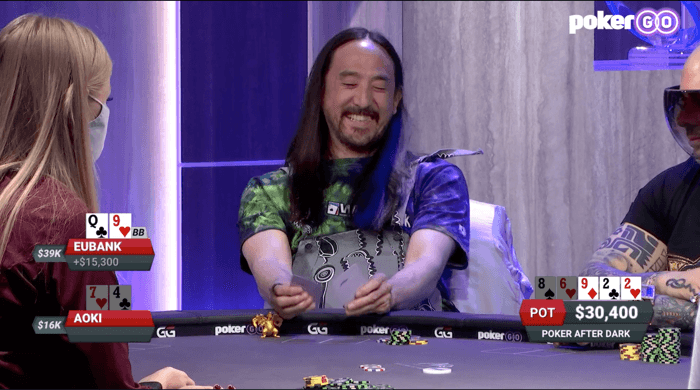 $78K Pot Between Bilzerian and Perkins
Bill Perkins opened for $400 second to act with
and received multi-way action as he was called by Aoki with
on his left, Bilzerian with
on the button and Lara Sebastian with an unknown hand containing the
in the big blind.
Both Perkins and Bilzerian flopped big on
and they didn't waste much time getting stacks in. It went $700 from Perkins, $2,200 from Bilzerian, $10,000 from Perkins, and a shove from Bilzerian. Perkins snap-called for about $37K.
They agreed to run twice. Perkins said he would take a straight on the first run. He got off to a nice start with the
turn. The
dashed those dreams, though.
Less promising was the
that kicked off the second run but it was followed by a
river that gave Perkins his money back.
Eubank Jr. Lets Bilzerian Off the Hook Cheap
Mally Mall limped under the gun with
and Bilzerian made it $600 with
in the next seat. Eubank Jr. looked down at the nuts,
, and reraised to $2,000 from Bilzerian's left. Both newcomer Alan Richardson with
in the big blind — he'd taken Aoki's old seat aftert he DJ busted — and Mally Mall stuck around, as did Bilzerian.
Thus, they went to a
flop four ways. Mally Mall led out small for $500, Bilzerian called, and Eubank Jr. raised to $3,000. Only Bilzerian wanted to keep playing and he check-called $4,500 on the
. The river was an
.
Eubank Jr. had a pot-sized bet left to play, about $24K.
"That snap-call really has messed with my head, Dan," he said after thinking a bit, referencing Bilzerian's quick turn play. "I can't believe I'm gonna do this, but I'm gonna check."
Bilzerian showed and a disgusted Eubank Jr. didn't hide the fact that he was irritated he'd missed out on river value.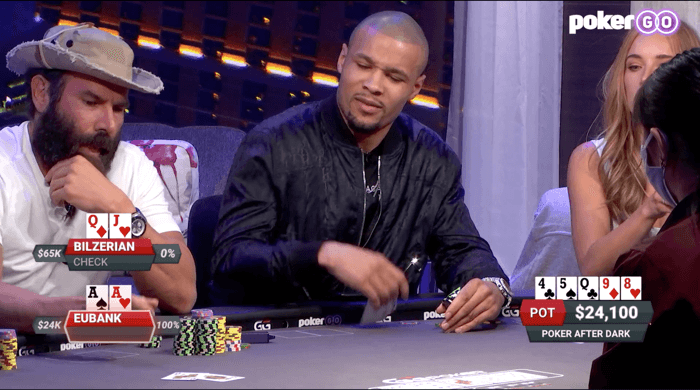 Perkins and Richardson Play for Stacks
Perkins opened early for $500 with
and Richardson three-bet on his left with
for $2,000. Action folded back to Perkins and he wasted little time before four-betting to $10,000.
"OK, I'm gonna give you a little action," Richardson said.
Perkins had $13,100 behind and that went in on the
. They agreed to run twice, and it was another chop on the final river as Richardson faded the first board with
,
but saw Perkins hit the
on the second run after a brick
turn.
Mally Mall Blasts on Final Hand
Anytime everyone agrees it's going to be the final hand of the night, things can get a little crazy as players try to get unstuck. Even high-stakes players on "Poker After Dark" are apparently not immune to this phenomenon as that's exactly what happened here.
Eubank Jr. called from early position with
, David Bell made it $700 with
, Perkins reraised to $2,100 with
, and Richardson woke up with
. He decided that was good enough for another raise to $6,000 and big blind Mally Mall called it cold. Bell called, as did Perkins.
That meant $24,600 was in the middle as they saw a
flop. Action checked to Perkins and he flicked in $5,000. Richardson reluctantly mucked, but Mally Mall counted out his stack of $17,000 and slid it all in. Bell folded, but Perkins was in no mood.
"I don't even care," he said, slapping in a stack of chips.
Mally Mall asked to run it three times and Perkins agreed. The sweat came on the first turn with the
. Mally Mall couldn't find another diamond as the
hit, and he was dead on the turn in the second run. He got some hope again with the
on the final runout but the river didn't help him.
The $58,600 Perkins scooped counted as the biggest of the session.
Remember, Poker After Dark will air every Monday but is only available to PokerGO subscribers. If you're not currently subscribed, you can get a monthly subscription for $14.99, a three-month plan for $29.99, and an annual subscription for $99.99. You can also save $10 off an annual subscription by using promo code "PokerNews" at checkout.
Photos courtesy of PokerGO.