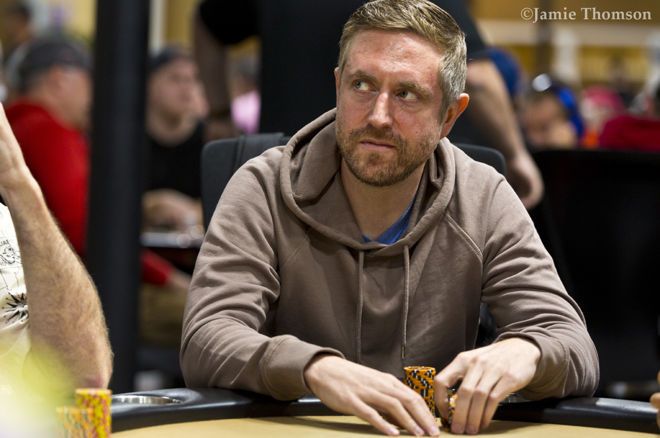 Andrew Neeme is the latest poker vlogger to join the growing team of ambassadors of the World Poker Tour (WPT).
WPT announced on Tuesday, May 24 that Neeme would be joining the WPT ambassador roster, less than a month after the leading poker tour announced that fellow poker content creator Brad Owen had joined its ranks.
"Incredibly special and surreal moment for me," Neeme wrote on Twitter when news broke about his ambassador deal. "I'm linking up with (WPT) to bring more poker vlogs, streams, and MUGs (meet-up games) around the world. The WPT was instrumental in getting me and countless others into poker, and I couldn't be happier to work together to do more."
Incredibly special and surreal moment for me. I'm linking up with @WPT to bring more poker vlogs, streams, and MUGs… https://t.co/XDU7MkMPVd
'A Natural Fit for WPT'
Neeme, from Michigan, first started playing poker in 2004 but didn't pick up vlogging until 2016. Since launching his poker YouTube channel, Neeme has earned 176,000 subscribers and racked up millions of views to make him one of the most popular content creators in poker.
"A partnership with Andrew is a natural fit for WPT," World Poker Tour CEO Adam Pliska said in a press release. "He is a trailblazer in the poker industry whose influence on the game can be felt anywhere the game of poker is played."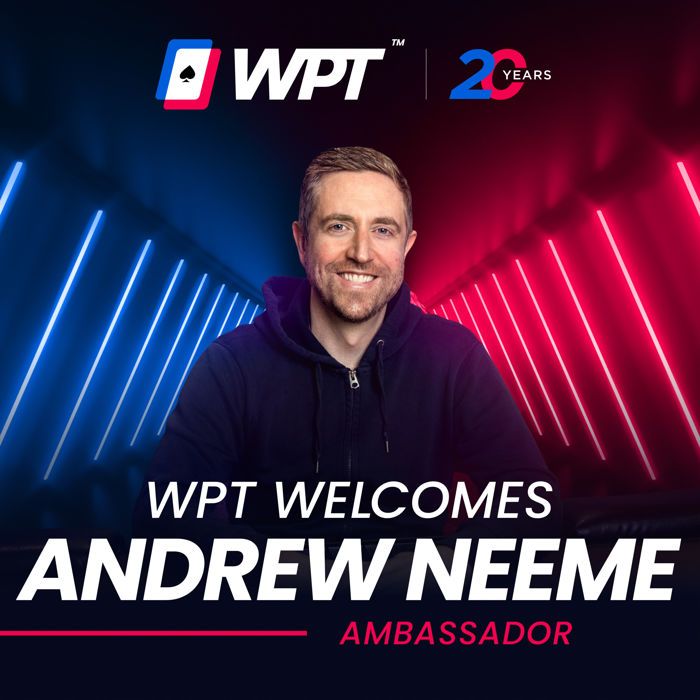 As a WPT ambassador, Neeme will follow the tour and attend WPT events around the world, in addition to "work(ing) alongside online partners in promotional efforts" and "creat(ing) exclusive content for WPT."
In the announcement, WPT said that Neeme will attend his debut event as a WPT ambassador later this year and that "players and fans will have opportunities to meet with Andrew throughout the WPT schedule as he will be attending events around the world."
"Joining the team of ambassadors at WPT will be a massive enhancement to my work as a player-turned-creator," Neeme said in the press release. "I've always used my vlog to not only highlight the game itself, but also the experiences that surround a poker-focused life. Partnering with the World Poker Tour will unlock new opportunities and experiences for the vlog and provide new ways for fans of this content to interact in person and online."
---
Free to Play Slots in the US
Neeme & Owen Again Combining Forces
WPT clearly has content creators in mind as the ambassador deal with Neeme comes just weeks after WPT picked up Owen, a longtime collaborator of Neeme.
Earlier in the year, Neeme and Owen teamed up with fellow content creator Doug Polk to purchase The Lodge Card Club in Austin, Texas, which has already hosted the biggest tournament in the state's history.
Now, the two poker content pioneers are teaming up in a different capacity as they tour WPT stops and host meet-up games around the world.
"WPT is ahead of the game in recognizing the value of content creators in the poker space," said Owen, who made his ambassador debut at WPT Choctaw earlier this month. "I couldn't be happier to have my long-time friend and partner joining me on the WPT team."
Neeme, meanwhile said that WPT "has provided a window into the excitement of poker since day one, and was a major influence on getting countless people into the game, myself included."
"Now we're aligned with the goal of trying to make that window as big as possible," he added.
PokerNews will be sure to keep an eye out for when Neeme makes his WPT ambassador debut, which could be at WPT Venetian Las Vegas, a stop featuring the $5,000 buy-in Main Event getting underway July 12.
*Photo courtesy of WPT
Related Tournaments

Related Players