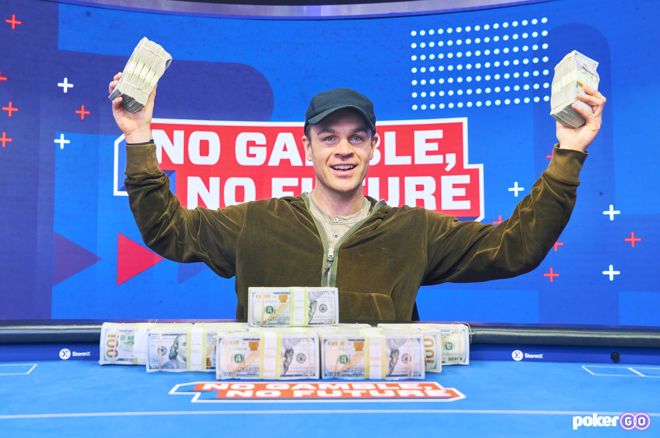 Andrew Robl never needed his $500,000 add-on during the three-day No Gamble No Future $1 million buy-in cash game as he cruised to victory, profiting $1,796,000 overall ($1,296,000 from the cash game) in what was a dominant performance.
The special live-streamed show on PokerGO, dubbed "Cash of the Titans," and hosted by Jeff Platt and Brent Hanks featured six players who paid at least $600,000 to enter, and most were in for $1,100,000. Out of that money, $100,000 went to a side pot totaling $600,0000 that was awarded to the player who profited the most during the three sessions (Friday, Saturday, and Sunday).
Although it was a bit questionable if the game was technically the $1 million buy-in game PokerGO advertised, and some on social media brought that up, the game played as big as any cash game ever streamed in the United States. As such, on Sunday, Patrik Antonius won the largest pot ever in US live-stream history — $1,978,000 — against Eric Persson, who lost his entire $1 million buy-in (plus the $100,000 side bet).
Patrik Antonius Wins $1,978,000 Pot, the Largest Ever Broadcast on a US Live Stream
Coasting to Victory
"Cash of the Titans" featured a unique format in which six players competed in a rising blinds cash game with $3 million on the table to start and every player having the option to add on another $500,000. There was less action on Day 1 (Friday) than on Sunday as the players were protective of their stacks early in the contest.
Come Day 3, however, desperation mode set in for some at the table as they were also playing for that extra $600,000 side pot. For Robl, a high-stakes poker legend who was playing in a smaller game than he's accustomed to, it was all about protecting a massive lead on Day 3.
Robl never added on the extra $500,000 because he didn't need the chips. He spent most of the final session sitting on a $1 million or larger profit, and no one really ever came within striking distance. But he did show some aggression at times and put some pressure on his opponents who were desperately trying to catch up to his stack.
Antonius did, however, make up some ground when Persson jammed all in against him on a queen-high flush draw only to be called by an ace-high flush draw with top pair. Persson was drawing dead on the turn with nearly $2 million in the pot. Per the rules of the game, players weren't permitted to rebuy once they busted the full $1 million, meaning Persson was out a short time later after losing his last $67,000.
Late on Day 3, Antonius thought he found a golden opportunity to, at the very least, get back into striking distance. On a board of
and over $90,000 in the pot, he sized up a bet of $100,000 with
for a full house. Robl surprised him when he bumped it up to $250,000. Antonius made the call only to find out his opponent rivered a better full house with
.
For all intents and purposes, that was pretty much the end of it as it gave Robl more than a $1 million lead on anyone else at the table. While the others in the game didn't just give up, the rest of the contest was merely a formality.
Nick Schulman Shines as Kaplan's Replacement on New Episode of High Stakes Poker
Gonsalves Crushes it on Final Day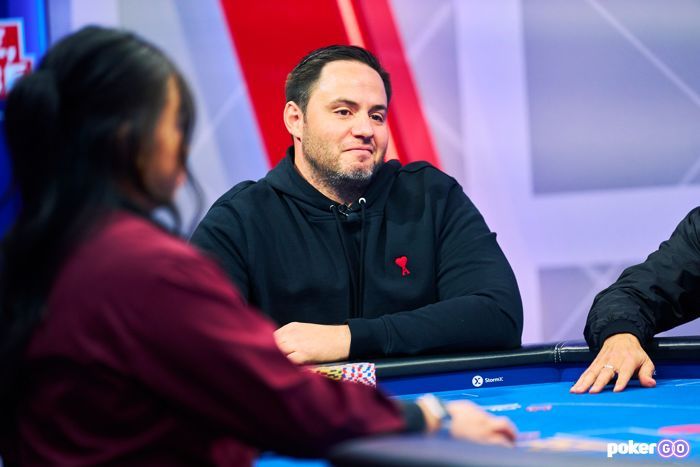 That didn't mean there was nothing worth watching the rest of the way. In fact, on the very next hand, Markus Gonsalves was all in preflop with pocket aces against the pocket queens of Rob Yong in a $1,298,000 pot, the second largest ever in US live-streamed poker history. The best hand held up and Gonsalves, who had been down big most of the three day competition, was in the black by almost $300,000 (minus the $100,000 side bet, of course).
Antonius would bluff Robl off jacks with eights to win a $426,000 pot during the final level of play. But then he'd lose to a three-outer on the river to double up Yong in a $493,000 pot not long before Yong busted.
Like Gonsalves, who was down more than $400,000 after Day 2, Antonius had to battle back from a rocky Day 1 start. MJ Gonzales, on the other hand, went in reverse, having finished the first session up $286,000, best at the table. But he'd end up down $30,000 for the three games (plus $100,000).
Yong was out of contention but had a shot to get some of his losses back in a $617,000 pot with
all in preflop against the
of Gonsalves in the final 10 hands of the day. When an ace flopped, Yong was out a total of $1,100,000 and out of the game. Gonsalves, who was playing in the biggest game of his life, was up more than $600,000 heading to the home stretch, and won more than $1 million in the final session.
Robl was far and away the biggest winner with a $1,296,000 cash game profit. Tack on the $500,000 profit from the side pot and he won a total of $1,796,000.
Final No Gamble No Future $1 Million Cash Game Results
| Place | Player | Profit/Loss |
| --- | --- | --- |
| 1 | Andrew Robl | +$1,796,000 |
| 2 | Markus Gonsalves | +$485,000 |
| 3 | Patrick Antonius | +$49,000 |
| 4 | MJ Gonzales | -$130,000 |
| 5 | Rob Yong | -$1,100,000 |
| 6 | Eric Persson | -$1,100,000 |
*Includes $100,000 side bet
*Images courtesy of PokerGO.