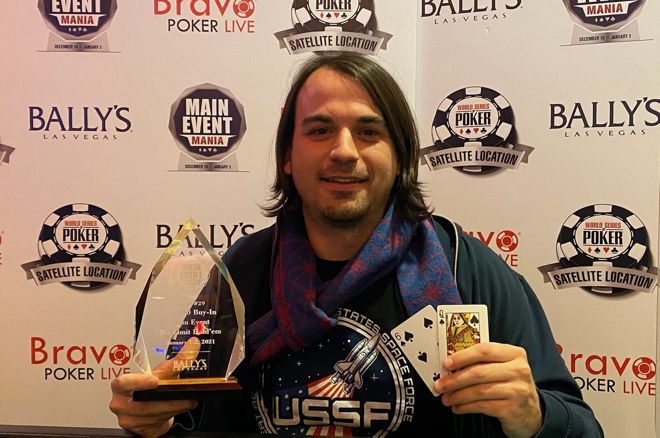 Ben Craig went from short stack to victor to take down the 57-entry Bally's Main Event Mania $1,500 Main Event for $25,834. He start the eight-handed final table with less chips than all of his opponents, several of whom had more than 100 big blinds, but it just proved to be a generous head start that Craig made up over the course of the next several hours.
With the win, the 32-year-old software engineer from Chicago added to $118K in career cashes, all coming since 2017.
"I've tried a couple of times going pro," he said. "I love coming to Vegas for tournaments."
Official Final Table Results
| Place | Player | Prize |
| --- | --- | --- |
| 1 | Ben Craig | $25,834 |
| 2 | Pete Dailey | $15,964 |
| 3 | Lewis Robledo | $10,467 |
| 4 | Viny Lima | $7,195 |
| 5 | Terry Fleischer | $5,196 |
| 6 | Mike Shin | $3,954 |
| 7 | Daniel Sepiol | $3,178 |
| 8 | Ryan Lenaghan | $2,708 |
Craig hung around with a short stack as a fast pace was set by the other players to get down to the final table — and the money — over the first few hours of the day. Plenty of late-registering players helped boost the prize pool, with the likes of Mike Shin and Pat Lyons among those showing up to fire.
Pete Dailey, Lewis Robledo and Viny Lima had heaps going in, and indeed those three wound up four-handed with Craig while experienced players like Shin and Terry Fleischer went bust.
It looked like Craig would be headed to payouts in fourth when he got it in dominated with queen-jack suited against Lima's jacks, but a queen on the turn saved Craig and he then busted Lima in a flip.
Robledo and Dailey seemed determined to play huge pots, something Craig was all too happy to do as he caught fire, showing down some huge holdings such as full houses and aces up when he was committing large portions of his stack. A massive flip for more than 60 big blinds went his way to bust Robledo, and he suddenly had a large lead against Dailey heads up.
They played a big one on an ace-high board that Craig didn't mean to make large, but he misclicked in a min-raise when he meant to call a turn bet and faced a big three-bet from Dailey. Holding an ace and a weak kicker, Craig stayed sticky.
"I just thought he was spazzing versus the misclick," Craig said. "I thought about jamming. He was frustrated. I was making a lot of big hands.
"But, I figured if he river wasn't a diamond [to make a three-flush] and he bluffed, I could get the rest."
It was a diamond, but Dailey gave up, and Craig had him on the ropes. He then gambled with a flush draw and an overcard and got there versus top pair to seal it.
Craig said he plays most of his volume online, but he's been increasing his play as the live scene slowly kicks back up. He said he's on his third trip to Vegas since the summer, and he's $25K richer for his next shot, whenever that comes.