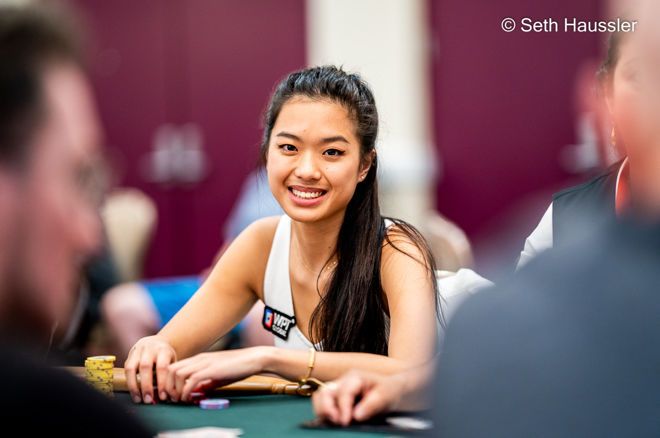 Nemo "akaNemsko" Zhou a chess and poker player won a seat into the upcoming WPT World Championship on the WPT Global platform valued at $12,000. She decided to give it away via a contest, which her poker coach and alleged boyfriend Alex "Thallo" Epstein won, and now poker Twitter is crying foul.
The World Poker Tour (WPT) will host a historic event Dec. 12-20 at Wynn Las Vegas with its WPT World Championship, the first ever $15 million guaranteed live poker tournament.
As such, the WPT has been permitting its WPT Global ambassadors such as Nemo to give away seats and travel expenses to the $10,400 buy-in event.
But in this case, many poker players are of the impression that the player who gave away the WPT package did so in a dishonest manner. Some went so far as to accuse her of "rigging" the contest.
PokerNews Live Reporter Wins WPT Contest
Poker Contest Details
It all started with Zhou, while live-streaming her play on WPT Global, winning the $12,000 package after rallying from a massive heads-up deficit. She then posted on Twitter details for how to win the contest, which called for watching her upcoming video and being one of the first 10 to comment on the video with a specific "code phrase" to be found within the video.
From those 10 comments, she would pick one person she felt was most deserving of the valuable prize. A number of viewers, unaware of when the video would drop, spent hours refreshing her page hoping to get in a comment with the code phrase in time.
Poker Coach Wins Giveaway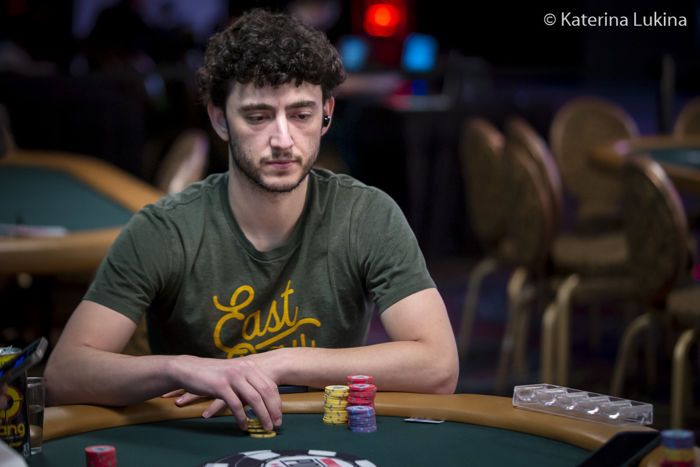 On Thursday, the chess grandmaster announced that she was giving the WPT World Championship package to World Series of Poker bracelet winner Alex Epstein, more commonly known as "Thallo" in poker circles.
Thallo was among the first 10 to comment, making him eligible. But many aren't so sure the contest was legit given that he is, by her own admission, her poker coach and, as some have said, her boyfriend.
The usual suspects any time a possible scandal breaks in poker were quick to cry foul on Twitter. Shaun Deeb, as expected, was one of the first to give his two cents.
"Every giveaway has rules some people should be barred from winning this is a clear one @WPT should really consider removing this seat and doing a proper giveaway for the community," Deeb later wrote.
After taking some heat from the poker Twitter critics, the host of the contest said that next time she runs a giveaway, she'll just draw the winner out of a hat, which also didn't go over well for her.
Most who posted critical comments directed at Zhou weren't part of the contest. But there was one individual who claims to have been among the first 10 to comment but her comment being removed.
Twitter user @NLHCajun then wrote: "Every single person that is standing up for those of us who were cheated of a fair chance in the recent $12k seat giveaway scandal…thank you! Let this serve as a reminder that this poker community is a family of integrity and that makes us all winners."
There's one other aspect of this that wasn't a good look for the contest winner and chess player, and that is Thallo apparently edited his comment in response to the giveaway video. That made some suspicious that some nefarious behavior had taken place. One Twitter user shared a screenshot of Thallo's comment on the giveaway YouTube video that shows it was edited.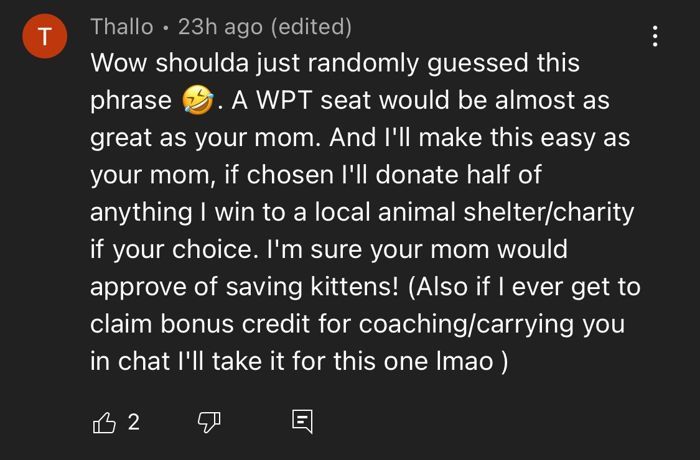 In another tweet that has since been deleted but captured in a screenshot, Thallo admits he edited the comment. But he explained that he commented as quickly as possible to ensure he was in the top 10 and then edited it later to include the code phrase.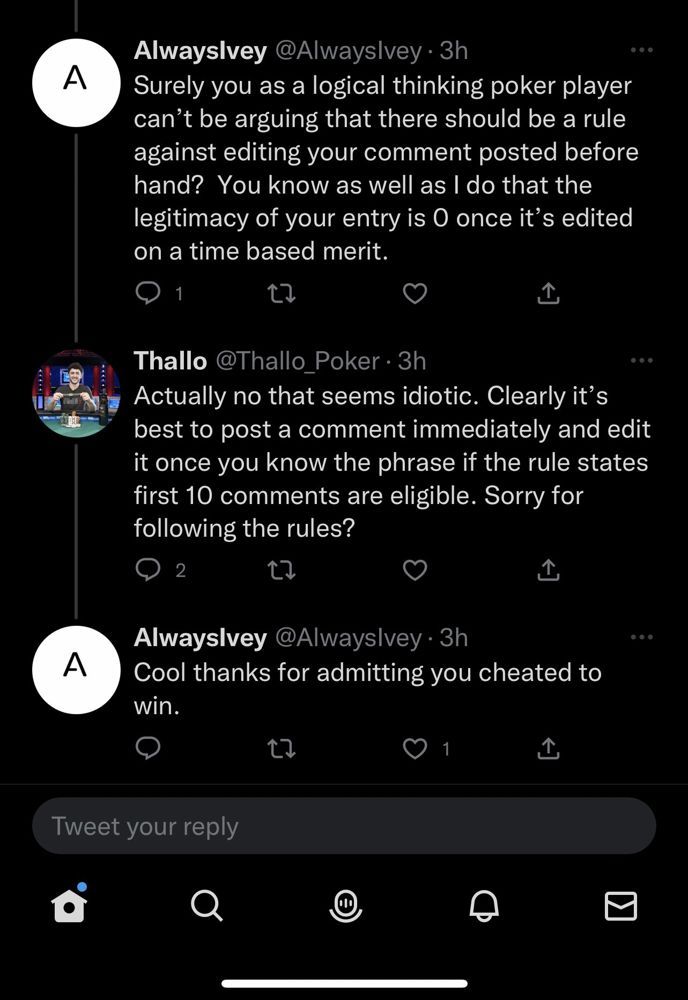 Chess Player, Contest Winner Respond
Following the criticism, both Thallo and Nemo gave detailed explanations for their actions. But most don't seem to buy their stories or their denial that the contest was rigged.
Zhou wrote: "I messed up. When I won the seat, I was excited and overwhelmed. I wanted to share that with Thallo, who has invested hours and hours helping me improve my game and I got carried away. If I wanted to give him the seat, I should have done so directly. I should not have run the contest for the seat and let him be eligible; it wasn't fair to everyone else who participated."
She went on to apologize and said that Thallo had opted out and she would hold a random drawing for the seat later. Thallo, who confirmed in a tweet that he is "rejecting the seat," was also active on Twitter Thursday night defending himself against the mob.
Matt Berkey, co-host of the Solve for Why podcast, argued that Nemo isn't the one who should receive the criticism from the poker community.
"It's really unfair that Nemo is taking all the heat here when it's pretty clear to me he understood the ramifications & optics. This will get spun as the poker community being cold & toxic, alienating outsiders, but in reality he willingly threw his girl to the wolves," Berkey tweeted.
With the Robbi-Garrett saga having fizzled out, the poker community appears to be in need of a new scandal to obsess over. While this one likely won't reach the mainstream news like the Hustler Casino Live hand did, at least it's certainly drawing plenty of interest ahead of one of poker's biggest events in years.