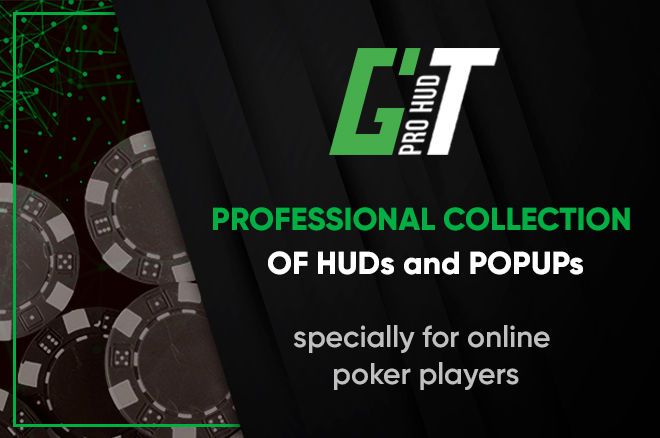 GT-HUD is a professional collection of HUDs and popups, created specifically for poker players based on their recommendations and wishes.
It contains a rich collection of dynamic and positional HUDs for different playing disciplines, such as CASH, MTT, SNG, Spin&Go, and Head's-up. Thanks to the convenient, thought-out interface you will find yourself in more comfortable conditions at the gaming table. GT-HUD will perfectly suit beginners and high-limit professionals.
You will certainly appreciate the convenience and simplicity of using our collection. GT-HUD has proved to be a reliable and convenient tool that every professional poker player needs.
A Guide to Setting Up Your Online Poker Heads Up Display (HUD)
Dynamics and positioning
The new HUD format allows to only display relevant statistics for every player at the table depending on the situation in the current hand and the pre-set conditions, such as players' positions, effective stack, the number of players and hands for a player, colour marking, the random board texture and actions in the hand.
Pop up window with additional information is one of the key element for every professional poker player. Correctly organized statistics in popups will allows you to quickly process the necessary information and make more accurate and weighted decisions.
We tested and designed popups in such a way that your eyesight would quickly focus on the necessary indicators.
---
READ MORE: What Is Real-Time Assistance (RTA)? Is it Legal?
---
Advanced statistics
The possibility to display different stats on different players allows you to have a more accurate idea of your opponent during the game. You know that the hands where a regular player plays against fish distorts the stat indicators, which is why we excluded the Reg vs Fish games when creating statistics and created clean stats that only display game indicators when playing against regular players.
Vs-Reg statistics is only displayed for players with a large range of hands.
The new pricing policy for GT-HUD is now in effect. Take advantage of the special promo code
GT-HUD2020-10_EN, which provides a 10% discount ONLY when you checkout for a 12-month subscription.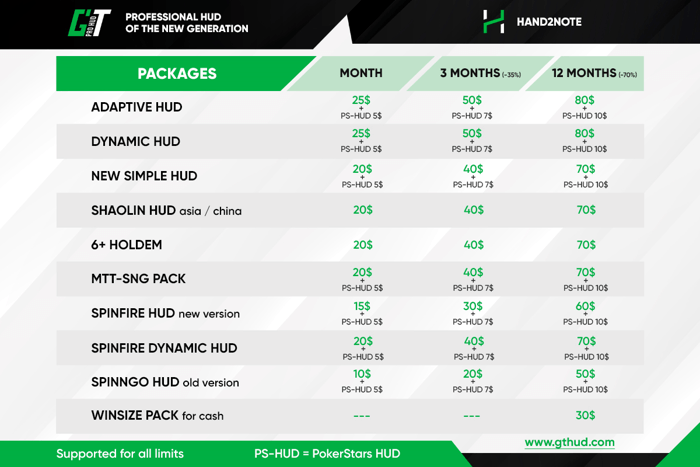 Hand2Note Features
Advanced statistics in additional popups
Additional automatic statistics for each stat: Preflop/Postflop Diagram; Next actions of a player; Stats vs-Hero; Betsizes/Showdowns; Action profit.
Last hands with showdowns
The unwatched tasks indicator, which allows you to follow all the important actual dispendings and not miss one, which is useful when playing with recreational players.
Analysis of the players
Instant access to dispensings with showdowns on the different playlines, which is convenient for analysis of the game Strong regulars of your limit. Thus, you can improve your game.
Recording notes
A convenient format of recording notes on players: you can insert the distribution in the notes with a couple of clicks or drag-and-drop and can also create groups of notes and patterns.
High performance
If 2500-3000 stats in the HUD/pop-up speed adjustment reaches 3000 hands per second. Thus, you can process the base on 5kk in 50 – 60 minutes, which allows you to work with large databases.
---
READ MORE: How Does PokerStars Deal With Bots?
---
About GT-HUD
The GT-HUD team has been in the market for over 4 years; however, we have more than 6 years of experience in creating professional HUDs/pop-ups/stats. You are going to receive poker applications from the best specialists in Hand2Note. We cooperate with professional players, coaches, developers, and designers.
Our company is focused on creating the most advanced and effective tools for improving your game. Working with us, you receive the tools tested by hundreds of professional players.
We choose Hand2Note because it's the top program for gathering statistics and customizing HUDs / popups at the moment. You will find a large number of tools in Hand2Note for increasing your winrate and extended capabilities for analyzing your game and the game of your opponents.
The new pricing policy for GT-HUD is now in effect. Take advantage of the special promo code GT-HUD2020-10_EN , which provides a 10% discount ONLY when you checkout for a 12 month subscription.
Sponsor-generated content from GT-HUD