Bally's has officially been Horseshoe for some time now (since mid-December 2022), but the Strip resort hasn't completely transitioned.
The resort's marquee, for example, has been getting a massive overhaul, and it's taking a minute. And by that, of course, we mean what seems like a year.
We are pleased to report a portion of one side of the marquee is being tested. Hey, it's something.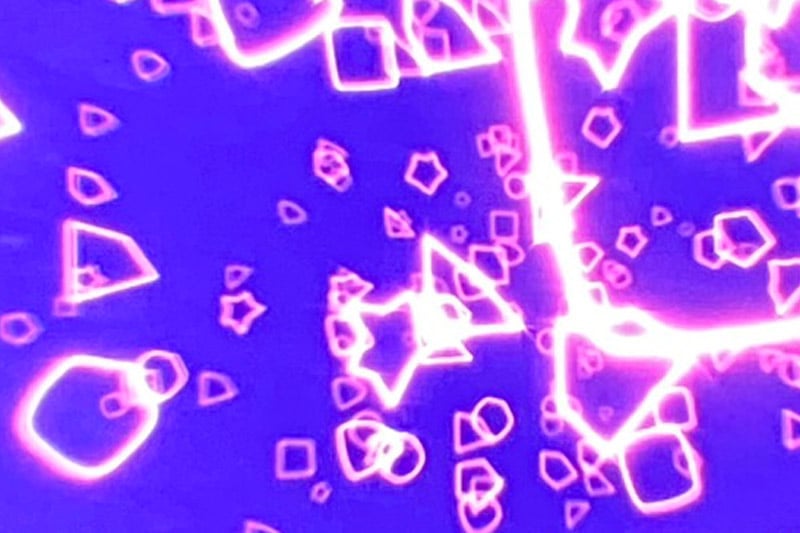 If you don't understand why a casino marquee is a big deal, you may not be Vegas enough.
While signage on Horseshoe's hotel towers, and a lot inside the casino, has changed, the marquee is a very visible (and disruptive to traffic) reminder Horseshoe isn't quite completely the Horseshoe yet.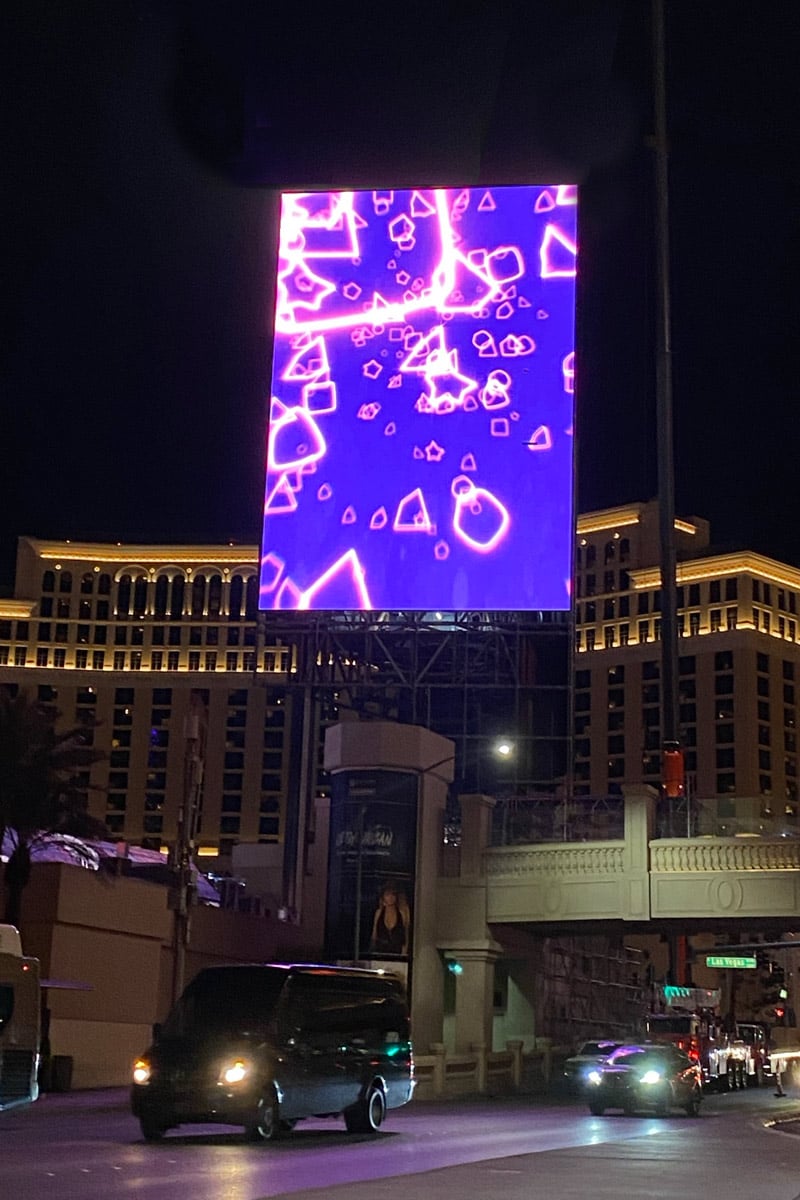 Here's what the marquee's testing looked like when we risked our life to bring you this video on March 17, 2023.
Horseshoe's marquee is massive and set to rival some of the biggest digital signs in Las Vegas (if you don't count Resorts World or Harmon Corner or Fremont Street Experience).
We would tell you how large the heightened Horseshoe sign is, but that would involve "research." We'd rather just wait for somebody to look it up and post it in the comments.
Let's just say you don't really get a sense of the scale of the sign without humans.
Horseshoe marquee update. YESCO humans for scale. (h/t @JamesInLasVegas) pic.twitter.com/apMR9xcYNO

— Vital Vegas (@VitalVegas) March 12, 2023
Two sides of the three-sided video screen appear nearly complete. The video testing is being done on the east-facing screen.
Here's a recent pic during daylight.
Our good-natured ribbing appears to be having an impact. Horseshoe marquee update! (h/t @JamesInLasVegas) pic.twitter.com/7S8ENKFjSZ

— Vital Vegas (@VitalVegas) March 16, 2023
The west-facing screen is lagging a bit behind, but the sign company doing the installation, YESCO, is now making quick work of the marquee that sits in just about the best location in Las Vegas given it's said to be the busiest intersection in town.
We didn't really risk our life for this photo, but we definitely risked road rage.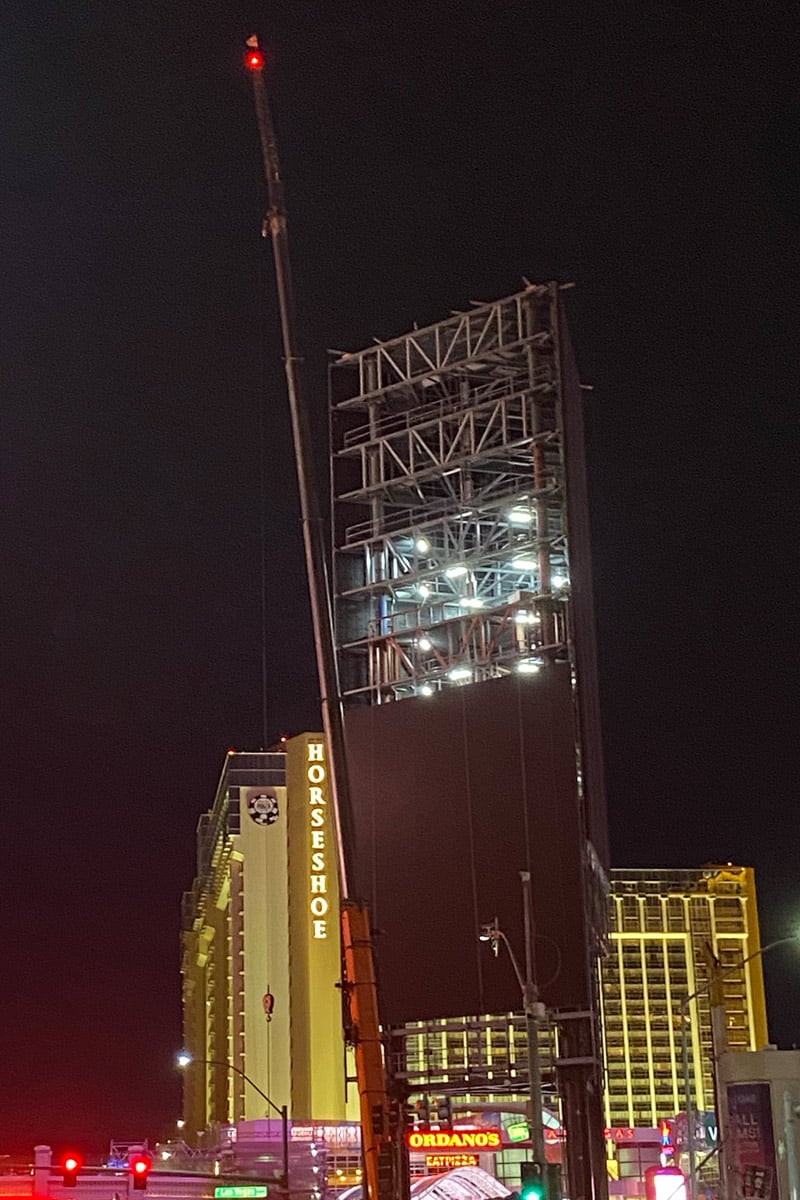 Horseshoe and its owner, Caesars Entertainment, hasn't publicly commented on why the marquee has taken so long (the F1 headquarters has built four floors of a massive building in roughly the same about of time), but we've been told there were supply chain challenges.
You don't just swing by Best Buy for a screen this size and resolution.
It's been fun watching the progress of the sign, and poking fun at Horseshoe about the sloth-like construction. We poke because we love!
We also reserved the right to tease Horseshoe about some of its half-assed temporary signs.
The change from Bally's to Horseshoe has been slow, but feels rushed. pic.twitter.com/wKZLqIp2YA

— Vital Vegas (@VitalVegas) March 17, 2023
We're excited to see the marquee finished, because we like bling, but also because, as mentioned, cranes are causing a clustertruck on the corner of Las Vegas Blvd. and Flamingo.
That mess is unlikely to go away even when the marquee is done, as cranes are also being used to construct Ole Red, a new restaurant and entertainment venue in the Grand Bazaar Shops. Cranes will also be used for Bottled Blonde right next door, we trust. More details.
The marquee will provide a lot more flexibility for Caesars Entertainment to hawk its shows, restaurants and other amenities (including that infernal sports betting app), and will also be an opportunity to generate revenue from advertising partners.
How much can ads on digital screens generate on the Las Vegas Strip? Well, we've shared some of the numbers for the aforementioned Harmon Corner screen.
May have shared this previously, but here are rates for advertising on digital display at Harmon Corner, biggest screen on The Strip:
– 4 weeks = $65,000
– 2 weeks = $32,000
– 3 days = $7,000
– 600 15-second spots per day

— Vital Vegas (@VitalVegas) October 9, 2019
As if drivers in Las Vegas weren't already terrible enough, let's give them more dazzling eye candy to distract them!
Don't get us started.
The over-under for the completion of Horseshoe's marquee is now May 1, 2023.
You know we'll be risking life and limb to get video when it officially goes live.
1 Comment