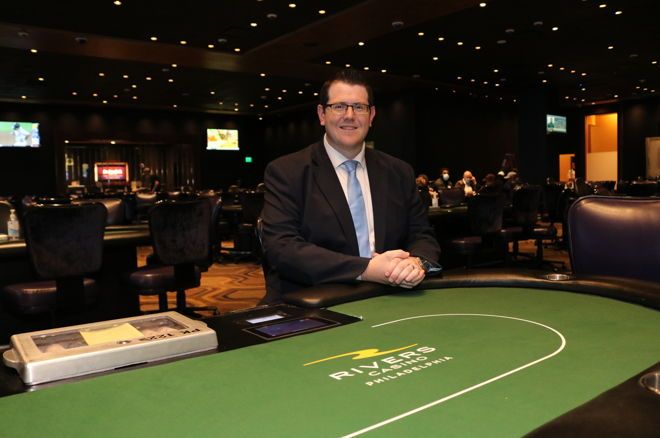 Back in April, Rivers Casino Philadelphia, formerly known as Sugarhouse Philadelphia, named Jim Moore as the new Manager of Poker Operations. The venue, which is on the rebound post-pandemic and recently reintroduced regular tournaments three times a week (Sunday, Monday, Wednesday), is slated to benefit from the leadership of the lifelong Pennsylvania resident.
Moore, who went to school at the University of Pittsburgh. currently lives in Levittown with his wife, Carly, daughter, Evelyn, and a baby boy on the way this November.
"I have been in poker for about 11 years now – with almost seven years right here at Rivers," he told PokerNews. "When I'm not at work or spending time with my nearly two-year-old daughter, I serve on the board of directors of Town and Country Players Theatre in Buckingham, Pennsylvania."
Start in the Poker Industry
Timing played a big part in how Moore became involved in poker. That's because the same month the game debuted in Pennsylvania back in 2010 was the same month he graduated.
"A brand-new poker room was opening 10 minutes from my house, and I had an interest in dealing," he explained. "Once I started, I fell in love with poker and the casino industry, but most importantly with the region's players, and I haven't looked back."
Four years later, he took his knowledge to SugarHouse Casino, which was rebranded to Rivers Casino in 2019. The casino started with a temporary poker room and it quickly expanded into a permanent 28-table room in early 2016.
"My first job here was as a poker dealer, and I've grown with our poker room every step of the way," he said. "Manager of Poker Operations is actually my sixth position at Rivers; I've also worked as a supervisor in various roles in addition to being tournament poker manager."
Moore follows in the footsteps of an industry veteran in Tommy Bates, who retired earlier this year. Moore was quick to credit his predecessor.
"Under Tommy's leadership, our poker room's success grew significantly, both in revenue and player base. My personal growth and leadership also grew under Tommy's mentorship, and I am grateful for the opportunity to lead the amazing team established here in Philadelphia."
He continued: "Our team is fun, smart, and works hard. We've been through a lot together, and I'm excited about the future. I was originally attracted to this property because Rush Street Gaming is a fast-growing company that embraces Philadelphia and continues to be voted a 'Best Place to Work' by our Team Members."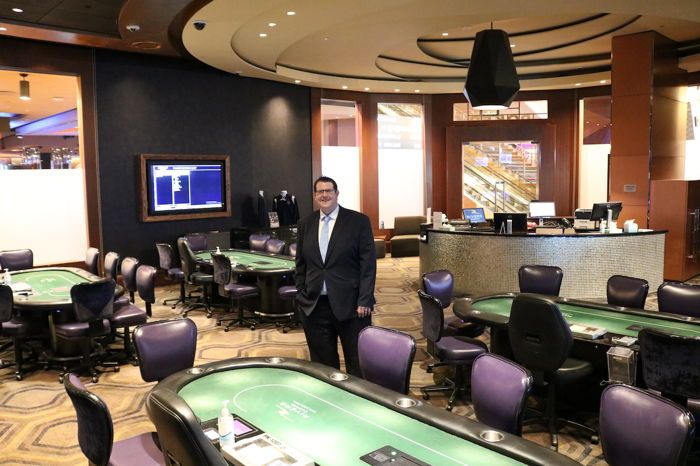 What Rivers Philadelphia Poker Has to Offer
Coming back post-pandemic, Moore and his team are focused on continuing to offer players top-notch tournament and cash game actions.
"When it comes to creating tournament structures or designing high-hand promotions, I think the number one question I always ask myself is this: 'As a player, would I play in this tournament or be attracted to this promotion?' Making decisions with a player's mindset keeps us genuine, but it doesn't stop there. We embrace player feedback, and all poker players have an opinion. Their input is invaluable and helps make us great."
Rivers Casino Philadelphia currently plays eight-handed games, and their most popular game is $1-$2 NLH.
"Our atmosphere is fun and friendly, with the best kind of Philly grit. The camaraderie is evident with our everyday regulars and is welcoming to first-timers."
"Our atmosphere is fun and friendly, with the best kind of Philly grit," said Moore. "The camaraderie is evident with our everyday regulars and is welcoming to first-timers. We offer fantastic high-hand promotions – we have over $300,000 in high hands in July alone – plus a bad beat jackpot. When it comes to food and drinks, players have access to several casino restaurants, including our high-end steakhouse, Hugo's Frog Bar & Chop House. We also offer complimentary Red Bull, Fiji water, beer, and cocktails to all players in all games."
PokerNews took the opportunity to ask Moore for one of his favorite stories from his time in the poker business.
"I love running tournaments, and you always remember the first time you see a true 'chip-and-a-chair' comeback. At 1 a.m., after six hours of playing, we were down to three tables. One of the oldest players left was down to his last big blind after his opponent hit a flush draw. With one last chip, he won one hand, then another, picked his spots, bided his time, and had a roaring comeback. While we may have all heard a story like this, this was special. The other players were rooting for him, and there was a real camaraderie, especially when he was one of the last five players, who chopped the remaining prize pool evenly."
It's that sort of spirited competition that Moore and Co. look to build on.
"We saw the same infectious energy and joy when we recently held our Welcome Back Poker Tournament," he said. "It was our first tournament in 15 months, and we were thrilled to be the first poker room in this region to hold a tournament. It's fantastic to see the return of a lot of familiar faces, and we're going to continue the momentum by returning to our regular weekly tournament schedule."
For more on Moore, follow him on Twitter @James_T_Moore as well as Rivers Philadelphia Poker Room at @riverspokerphl.