Fees for premium seating at Las Vegas restaurants is officially a thing.
Several popular restaurants, filled nightly due to high levels of demand, have instituted fees for guests to reserve tables with the best views.
The pitch from restaurants is these fees not only guarantee a spectacular view for diners, but also help avoid disappointment. In the past, snagging a prime table with a great view involved: 1) luck, 2) "knowing a guy" or 3) greasing the palm of a hostess, maître d' or restaurant manager.
Now, you book a table with an awesome view up front, no guessing games about what tip is expected or whether some high roller might breeze in and tip more, ruining what might have been a once-in-a-lifetime night on the town.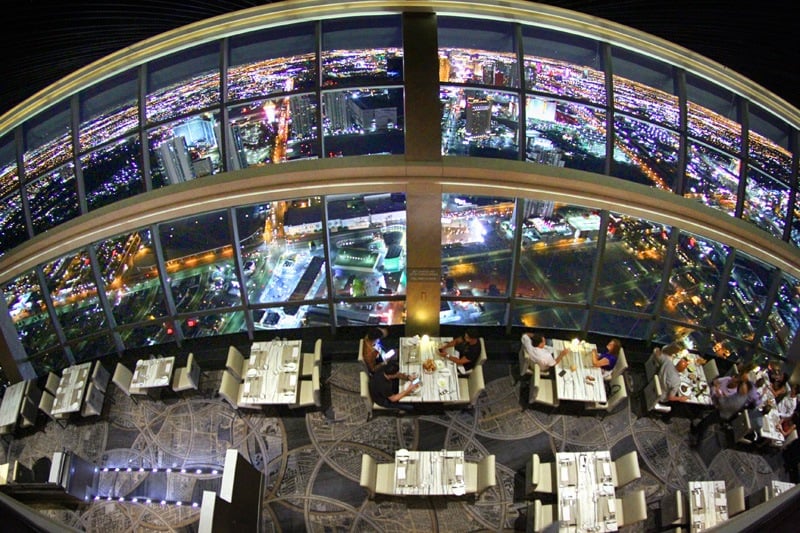 These new charges aren't the same nuisance fees we've shamed restaurants for in the past. These aren't COVID fees or service fees or CNF charges (concession fees). They're an extra fee to hold your spot, to ensure that sweeping view of The Strip, typically a window seat, is ensured.
Here are the restaurants with these premium seating fees, just so you know before you go.
1. Top of the World at The Strat
Top of the World isn't just a restaurant. It's a uniquely Las Vegas thing to do and the view is as important, if not more important, than the food and drink being served.
For some time now. Top of the World charged $25 per person to reserve a window seat in the revolving dining room. Recently, a new fee has been added, a $15 charge for less desirable seats, described as "elevated, non-window rotating." So, pretty much any table in the part of Top of the World that revolves requires an additional fee, per person. There are seats that don't require an additional fee ("Bar" and "Counter"), but this seating is stationary. Yawn.
Find out more at the official Web site.
Worth it?
Yes. You want a special night in Las Vegas? Don't half ass it. You'll spend more than $25 on Wheel of Fortune in 10 minutes. You are guaranteed to have never had an experience like Top of the World, so go for it.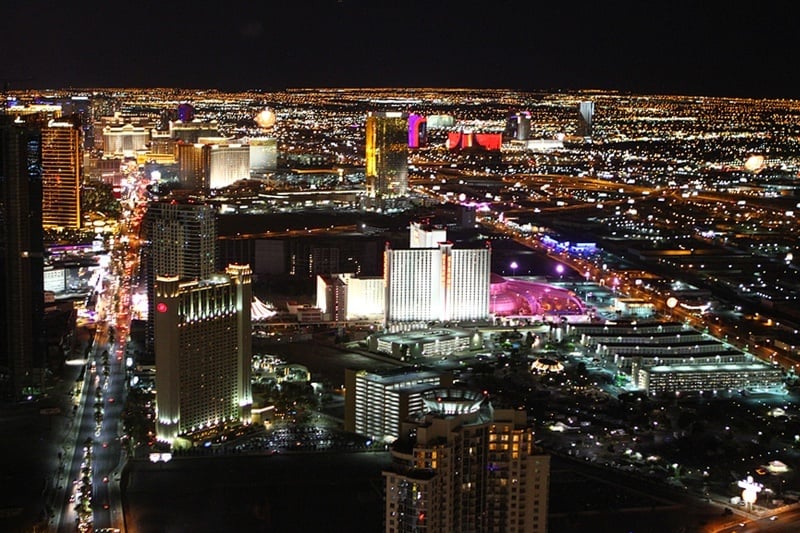 2. Eiffel Tower Restaurant at Paris Las Vegas
Again, Eiffel Tower Restaurant at Paris Las Vegas is one of the greatest dining outings in existence. It's fancy enough, but not pretentious, and the ambiance is as sexy as the cuisine. The view of The Strip is panoramic, but it's next level next to the window, which guests can reserve for $40.
If you're looking for something pretty much guaranteed to get you some action, book the "Iconic Table 56" experience. Book this table far ahead, as there are only
three seatings a night (5:00 p.m., 7:00 p.m. and 9:00 p.m.) and it's booked up solid months in advance.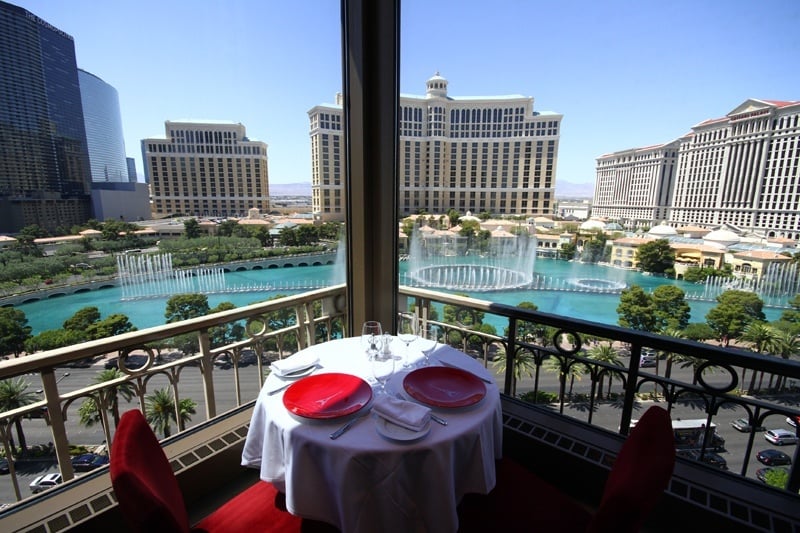 What makes Table 56 special? It's positioned perfectly to view the entire Las Vegas Strip, as far to the north and south as you can see.
The fee to reserve Table 56 is $100, but tends to have a great return on investment, if you get our drift.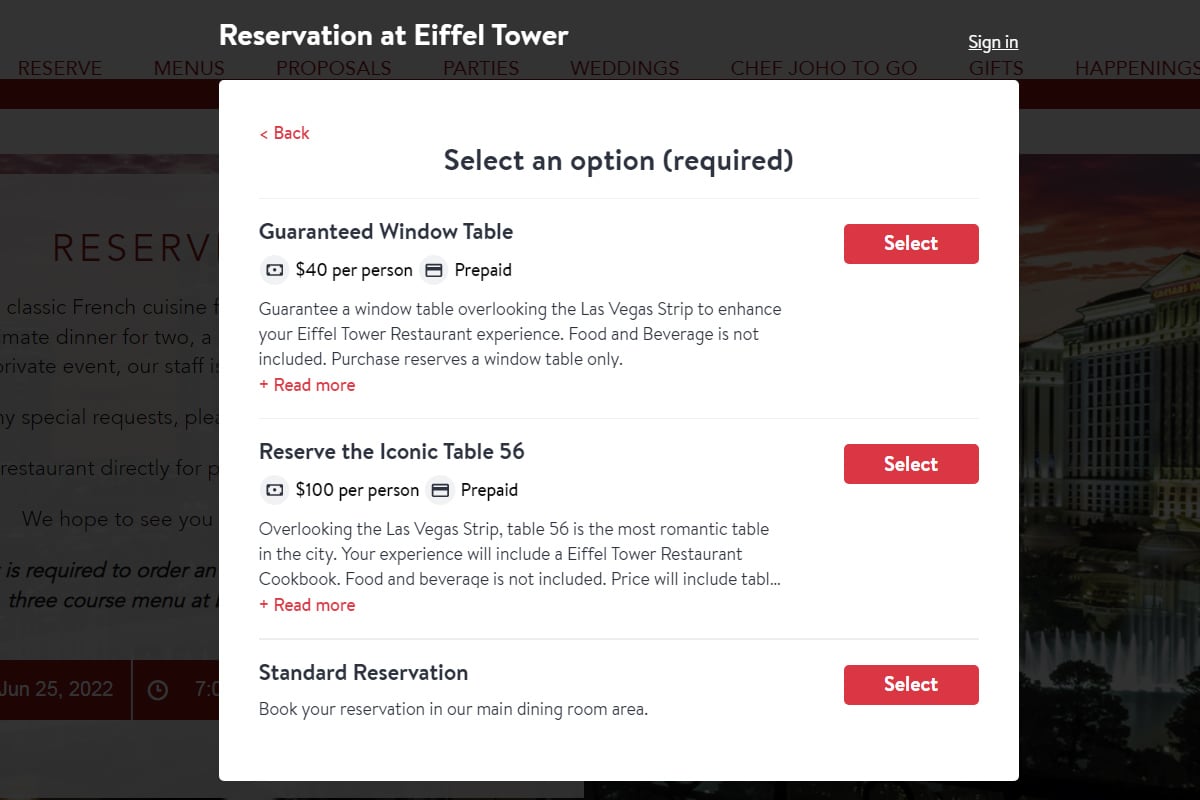 Worth it?
How much is a story worth? Of course, it's worth it! It's $40 to ensure you get a window seat. We don't use "breathtaking" often, but that's the  perfect word to describe the sweet window view at Eiffel Tower Restaurant. Eiffel Tower should be paying Bellagio a commission!
3. Giada at Cromwell
Giada is a great and popular Italian restaurant with some serious star power attached.
Giada is also making the most of its popularity by giving guests the option of reserving a window seat for a fee of $25 per person. The fee bumps up to $50 per person on holidays and special events.
Worth it?
Tough call on this one. The view from Giada can't compare to the views from Top of the World or Eiffel Tower restaurant, but we trust customers appreciate having the option to reserve a window seat if they'd like one. We typically pass on booking the premium seating at Giada, especially on those $50 days.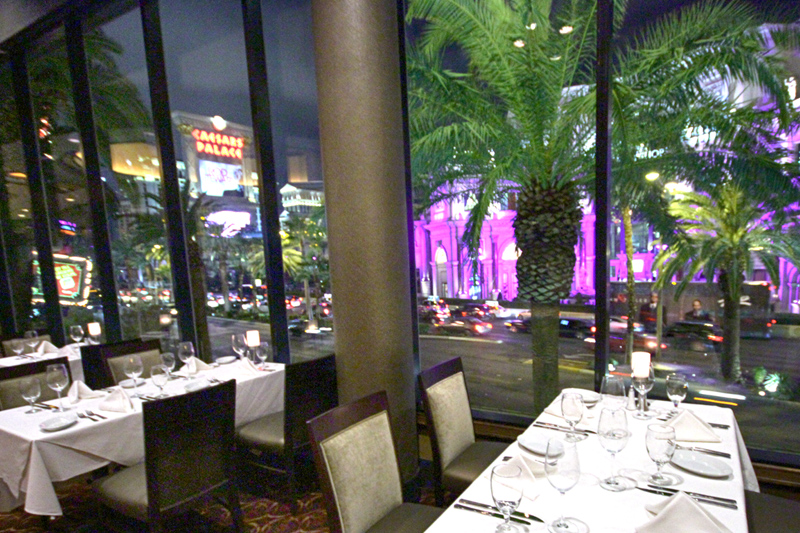 4. Ruth's Chris Steak House at Harrah's
Ruth's Chris Steak House at Harrah's charges $10 a person for window seating.
Worth it?
We'll leave this one to Courtney, the Twitter follower who alerted us to the fact Ruth's Chris charges for window seating: "I didn't think it was worth it."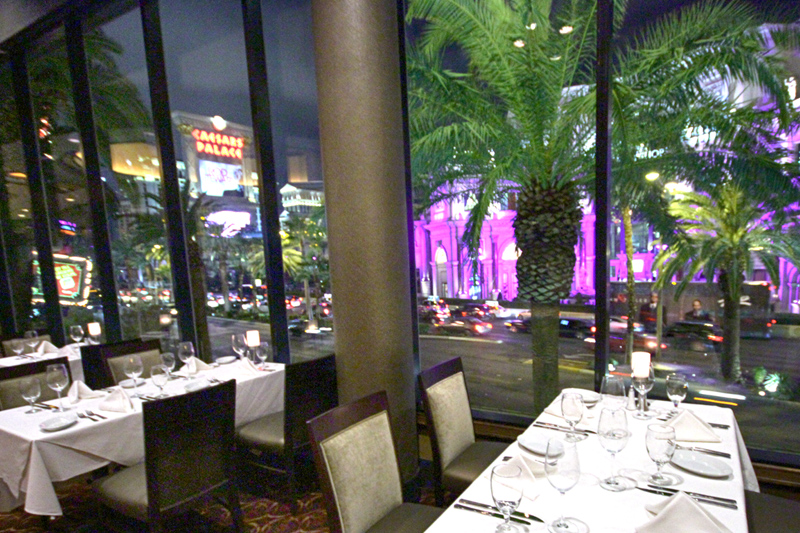 Ultimately, there are people who care about views and people who don't.
If you're looking to take your dining experience up a notch, reserving a window seat can do just that.
While fees aren't typically welcome, there is a case to be made that surcharges for premium seats provides a benefit to guests. Charging for a table eliminates a lot of
uncertainty. You know the view is going to be great, and you can spend your precious Vegas vacation time worrying about other things.
Basically, reserved seating for a fee eliminates winging it.
As with most things in Las Vegas, charging fees for special seating is based upon supply and demand, or what the market will bear. It's unlikely you'll see these fees cropping up at restaurants with less stellar views. Then again, never say never.
In the meantime, know before you go and figure these seating fees into the price of your night out.
Life's too short to agonize over a fee when it could mean the difference between grabbing some grub and an utterly unique, unparalleled cavalcade of delights for the senses.
Vegas cavalcades are the very best kind, after all.