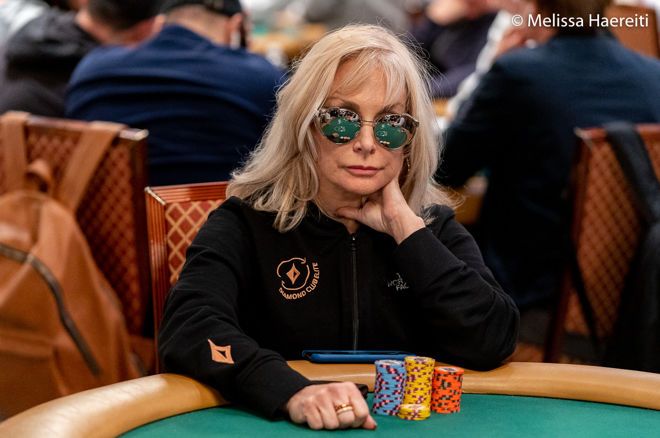 Following Martin Zamani's interview on the Doug Polk Podcast in which he claimed Bryn Kenney was operating a cult-like online poker cheating ring, Lauren Roberts fired off a tweetstorm over the weekend about the scandal corroborating some of the accusations.
Roberts is a high-stakes amateur who played under the screen name "he22" on GGPoker. According to Zamani, Kenney often ordered his stable of horses (players he was backing) to gang up on her in online poker games.
The accusation is that when "he22" was seated in a game, Kenney would tell his horses to get in the game and team up to take her money. Zamani also claimed this gang-up mentality was done to a woman whom was supposedly friends with Kenney.
Poker's all-time money list leader isn't the only high roller to be connected with an alleged cheating scandal. Ali Imsirovic, who won the 2019 GPI Player of the Year award, was also accused of colluding and using real-time assistance (RTA) tools by Alex Foxen, Chance Kornuth, among others.
Listen to Bryn Kenney's response to the allegations here.
Roberts Brings Some Receipts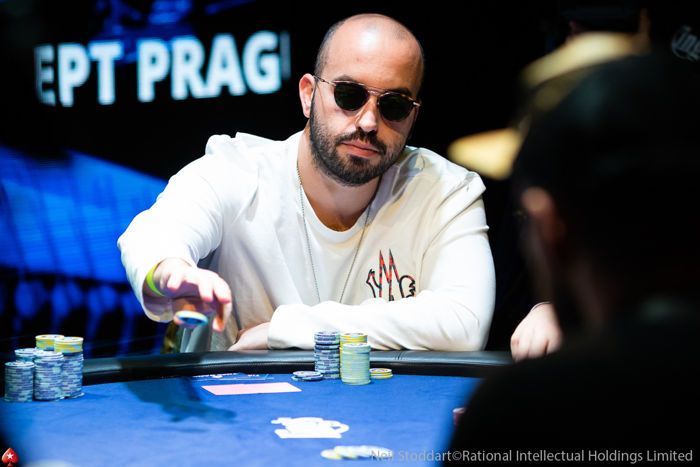 Up until Saturday, most of the allegations against Imsirovic and Kenney were just that — allegations. Zamani made some bold claims in one of the whackiest interviews you'll ever see, but he showed no proof. Roberts, however, shared some tweets that may have corroborated some of Zamani's claims, including a number of text screenshots.
Some of the tweets were a bit confusing and didn't show the dates the conversation took place. But in one, a one-time friendly relationship between the poker players was apparent.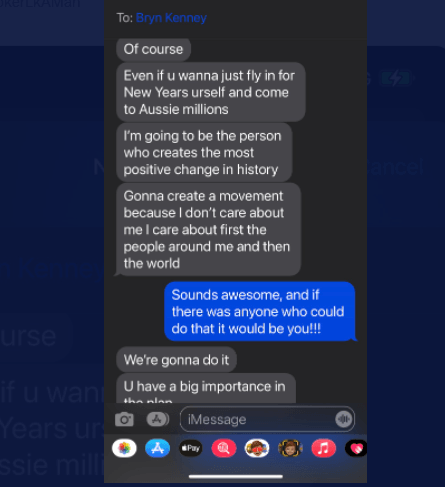 Roberts' GGPoker account was a big loser, although she did win a US Poker Open event in 2019 for $218,400 in Las Vegas. None other than Bryn Kenney was there to celebrate with his "friend."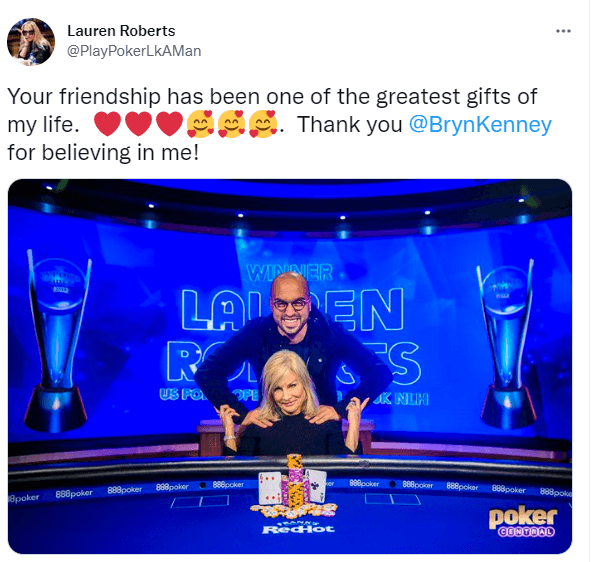 That friendship is clearly a thing of the past and the animosity between the two was fully on display Saturday on Twitter.
"I had no idea Martin was gonna do this. Ironically, I think Martin may have used my account as an example bc I have been kind to him and I think he feels guilty that he didn't tell me after he found out what was happening. There is so much more to this story," Roberts (@PlayPokerLkAMan) wrote of Zamani.
Zamani, who admitted to being part of the alleged online poker cheating ring, claims Roberts was unaware of Kenney's horses ganging up on her in high-stakes games.
Relationship Becomes Abusive?
Not only did Kenney allegedly take advantage of Roberts, he also apparently sought compensation from her for losses in those games. Multiple screenshots tweeted out appear to show the high roller legend asking for money related to online poker losses.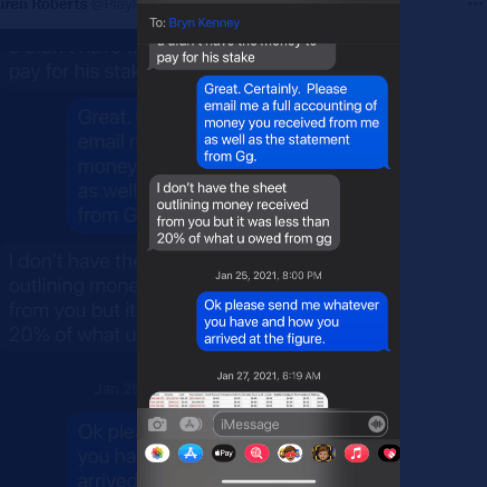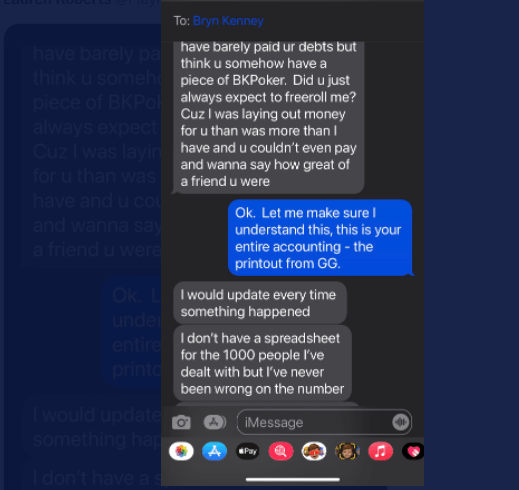 According to Roberts, Kenney was unorganized when it came to accounting. As Zamani said, Kenney had control of his horses GGPoker account balances. He would stake the players but control how much and when they were paid, allegedly.
Another claim is that if certain members of the stable were disobeying Kenney's commands, he'd drop them down in stakes and verbally abuse them. He was also apparently inconsistent when it came to keeping track of accounts balances of his horses.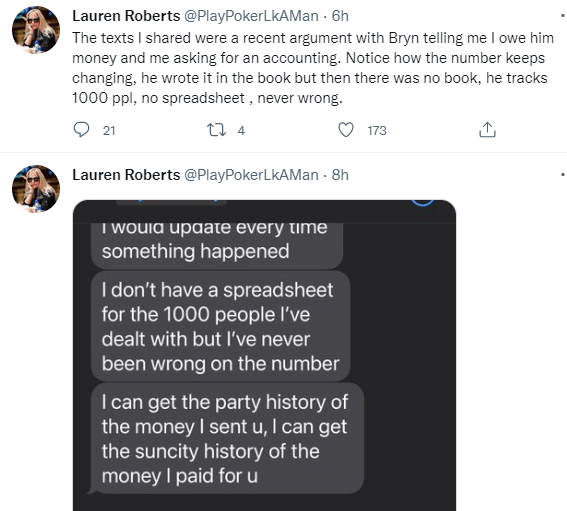 Roberts said that she had no way to withdraw money from GGPoker on her own. According to one of her tweets, "it all went through Bryn." And she also suggested that after Kenney left GGPoker as an ambassador, he attempted to start his own online poker site.
The one-time US Poker Open champ then accused Kenney of being "abusive," and said that if she wanted to stop playing, he'd come up with a "new scheme" to get her back in action.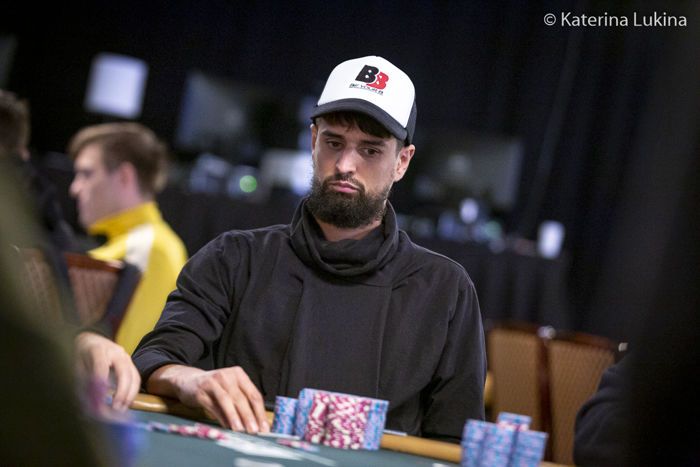 Sergi Reixach, a talented high roller who admitted to coaching several of Kenney's horses in a statement provided to Poker.org, but he vehemently denied ghosting or having any knowledge of Kenney ghosting other players and refuted many of Zamani's claims.
"During the interview, [Zamani] also accused me of [assisting] his play with the 'RTA system device,' as if I had some kind of dream machine for MTTs. That's not true. I asked GGPoker several times for my hand histories to prove that my game is far from GTO (game-theory optimal) but they didn't let me have my hands," Reixach said in the statement.
Reixach admitted he was banned from GGPoker in 2020, but he claims the ban was due to him using "illegal preflop charts" and not for RTAs that can turn a player into an unbeatable GTO robot.
Best Free to Play Slots
If you were expecting poker Twitter to stand behind Kenney and defend him against the accusations, although a few have, you'll be disappointed. Social media has, thus far, been more in Roberts' corner. And that includes Farah Galfond, who was pleased that Roberts came forward.
It made me sick watching lauren and Joel trust him. When he accused my Phil of super-using, it very much felt like… https://t.co/Yxpha6CdZR
"Thanks for coming forward with your story, I think people are grateful for any information you are willing to share regarding this," Doug Polk tweeted at Roberts.
If you're going to read only 1 tweet on the @BrynKenney situation- do yourself a favor and make it this one https://t.co/YuPGPvqaKg
Zamani brought forth allegations on Polk's podcast, suggesting he took part in going after Roberts on the felt at the direction of Kenney. Following Saturday's tweetstorm, it appears Roberts is backing up those claims.
On Tuesday, Kenney addressed many of the allegations with PokerNews: