A new slot machine cleverly helps gamblers avoid triggering IRS reporting headaches when they hit a "taxable" jackpot.
The game: Double Jackpot Blazing 7s With Quick Hit (High Limit Edition). Say that three times fast.
Once you see why this machine is so ingenious, you'll wonder how its manufacturer, Light & Wonder (formerly Scientific Games), is getting away with it.
A twist: This slot machine is especially popular with visitors from Canada. We'll tell you why. Let's go.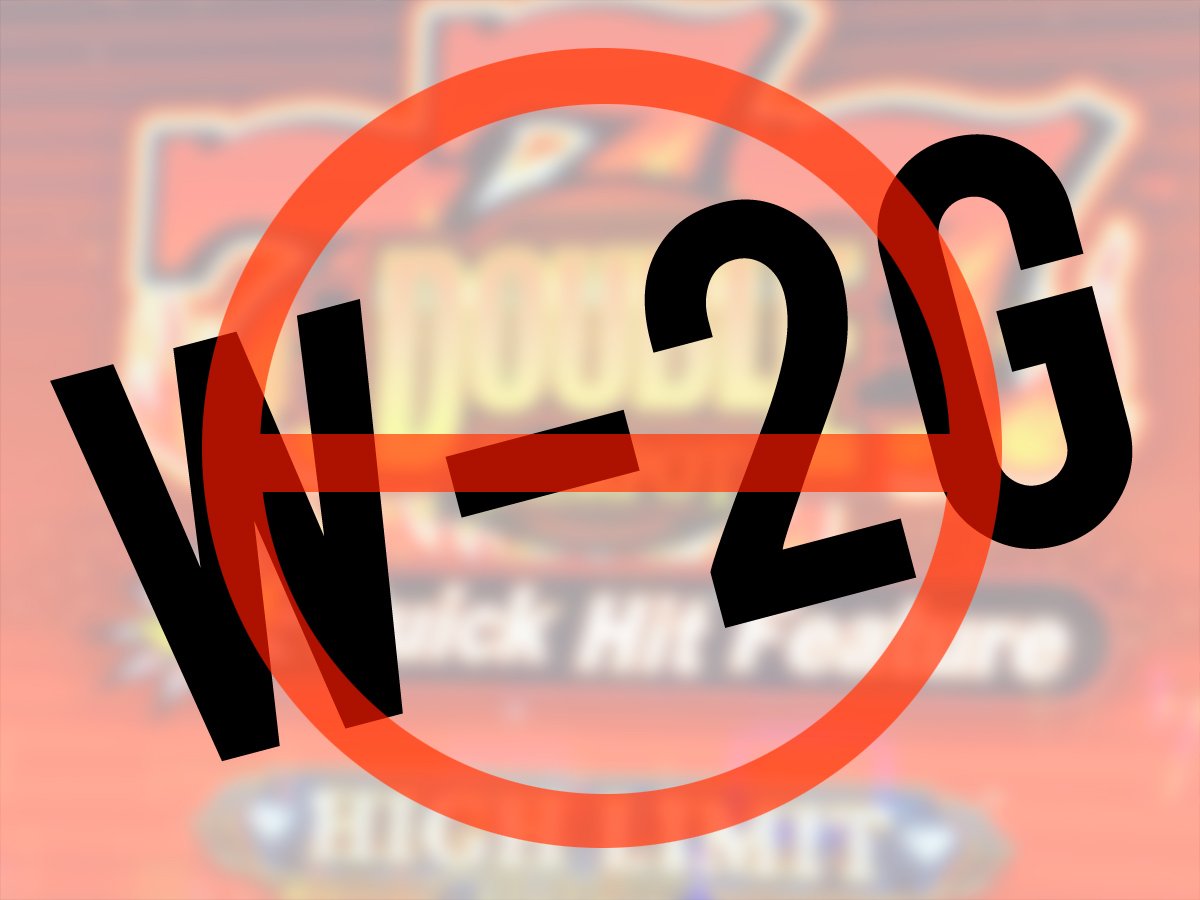 Here's some background, in case this all sounds like Greek.
In U.S. casinos, when a player hits a jackpot of $1,200 or more, they are paid by hand (called a, wait for it, "handpay"). The player provides I.D. and the casino reports the win to the IRS via a W-2G form.
The bottom line is the whole process is a pain in the ass, both for casinos and players.
The $1,200 threshold has been in place since 1977, and there have been endless attempts to raise the threshold to $5,000. (Accounting for inflation, that number should be closer to $6,000.)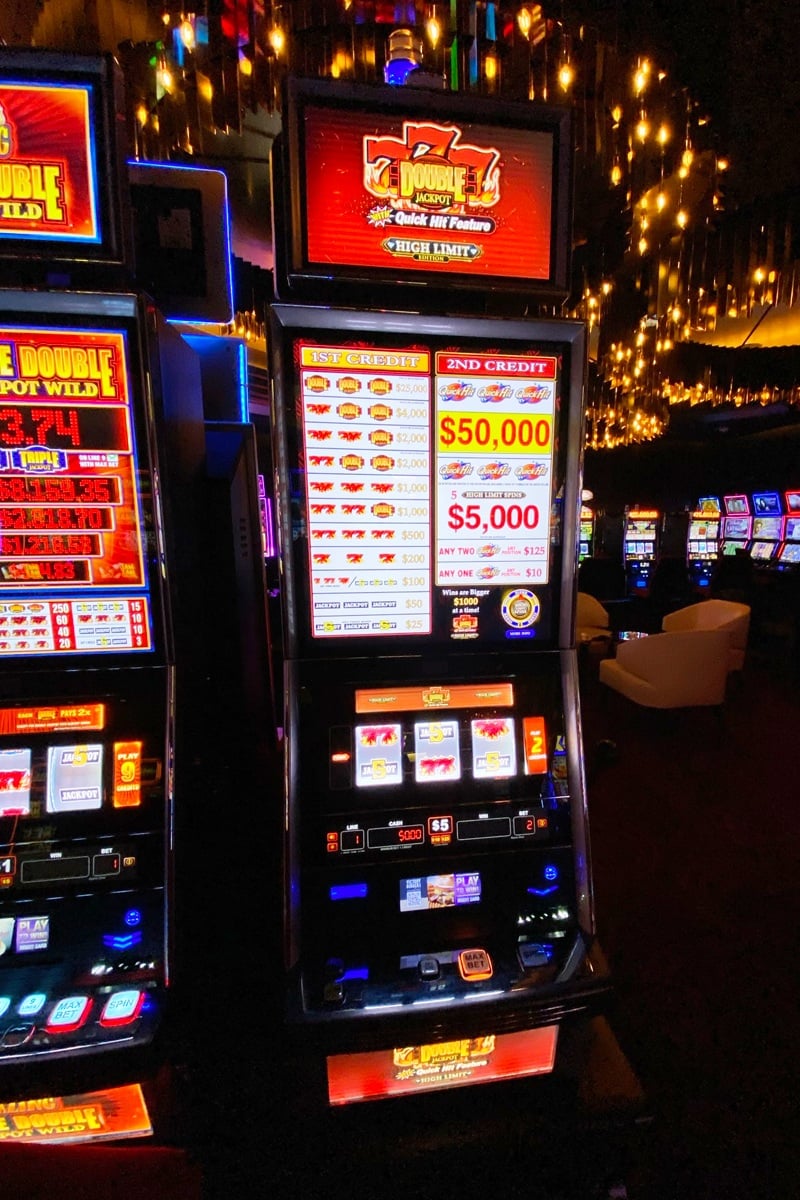 The reporting process gets even more complicated for international visitors, such as those from Canada. Canadians who win jackpots get a third of their winnings withheld, right off the top, despite the fact that in Canada, gambling winnings aren't considered a taxable form of income. Because Canada is smart.
Anyway, the whole W-2G experience is a burden on players (interruptions in play, the government knows their business) and casinos (red tape and staffing costs), which is what makes this new slot machine so crafty.
The Double Jackpot Blazing 7s With Quick Hit slot has a bonus round that's unlike other games.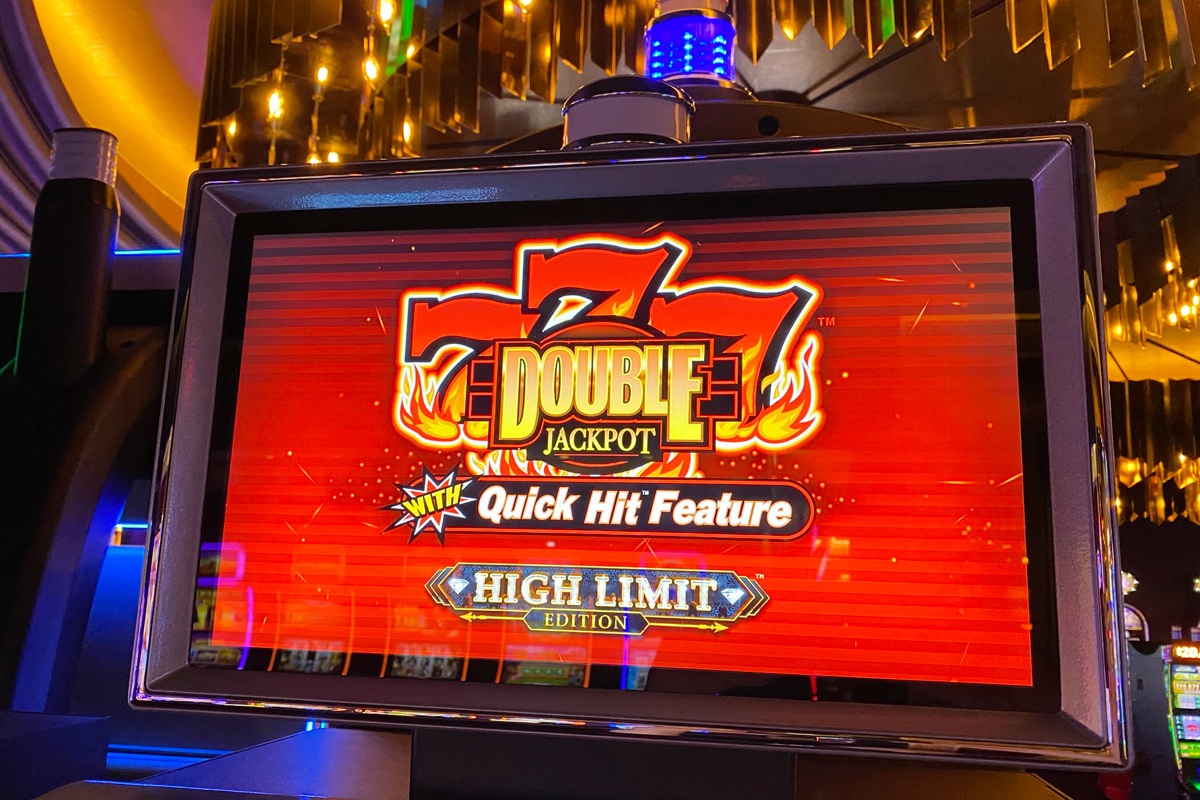 If you hit the bonus, you get a number of wheel spins for big bucks.
The thing is, in this game, the spins cost you. The cost is one credit (the denominations on the games we played were $5, $10 and $25).
That means you're wagering on each spin. This is important.
Also important is the fact the wheel contains a number of amounts you can win on each spin, but there's a space where you lose.
That's right, the prize wheel has a losing space, and the player gets zero dollars about once out of every 999 spins. Here's the wheel, and our red arrow points to the space where, on that particular spin, to quote Willy Wonka, "You win nothing. Good day, sir!" We're pretty sure the 1-to-999 ratio isn't to scale.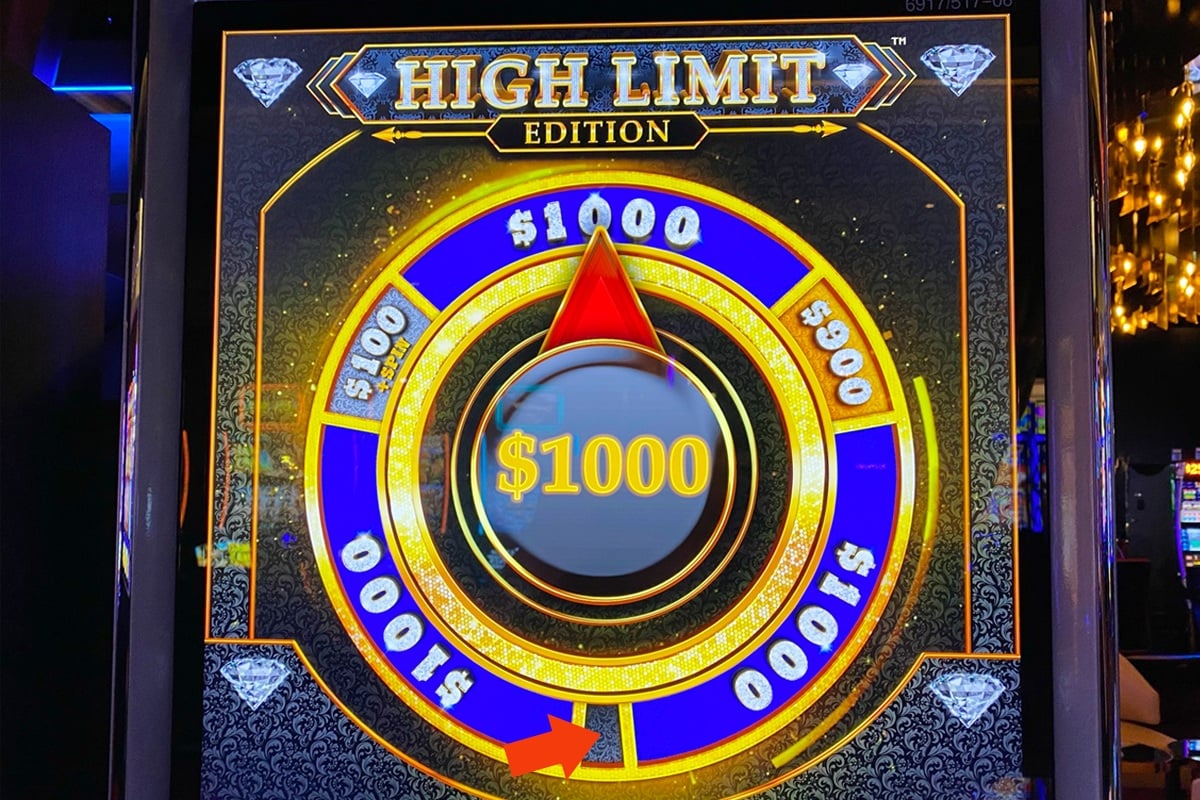 What these creative features do is make every spin independent. And the most the player will win on an individual spin is $1,000, under the IRS tax reporting threshold.
Even if the player gets five spins, and the total won is $5,000, there's no W-2G, because they won five separate prizes (each spin required a wager and could potentially lose) of $1,000.
At the $25 level ($50 a spin), a player could win 25 spins, with a total win of $25,000 (25 wins of $1,000) and they'd never see a slot attendant or W-2G.
The mind reels. (We'll wait.)
Now, you can start to see why Canadians are lining up at this game. Sure, they can submit paperwork to get their withheld winnings back, but it can take up to a year to see their money. Avoiding that whole bureaucratic maze is a big plus for our friends to the north.
When we first heard about this slot machine, we were dubious, to say the least. The IRS isn't shy about wanting its piece of the pie.
Here's the screen that lays it all out.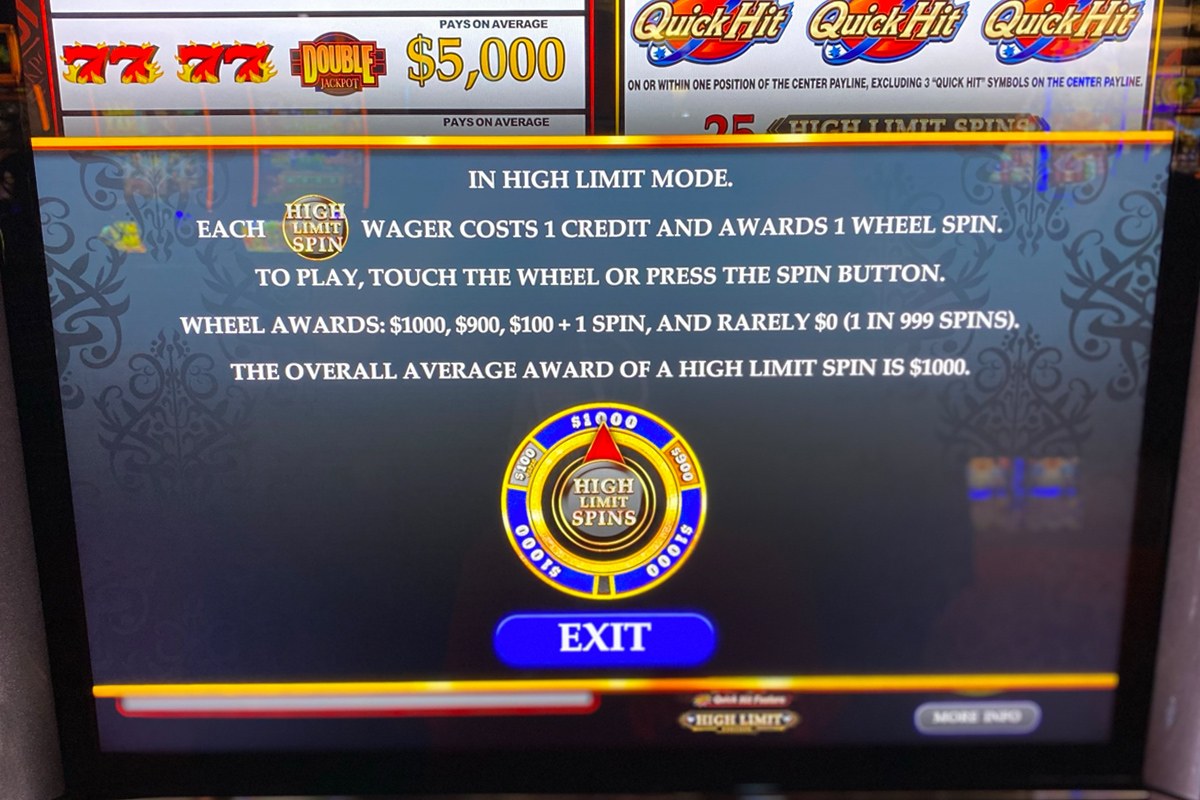 Somehow, this slot made it through the many regulatory hoops required to get a game approved, including by the Nevada Gaming Control Board and Nevada Gaming Commission.
The games we played were at Circa, The D and Golden Gate (all with a common owner), so we inquired about if they were concerned the game might get canceled once The Powers That Be realize it's sidestepping the tax reporting process.
We were told customers love the game (understandably), and if it should go sideways at some point, the cabinets can be re-programmed to host other games. The game has proven so popular, these three casinos are boosting their original three machines by an additional dozen.
All the machines sit in the high limit rooms at their respective casinos at Circa, The D and Golden Gate, downtown.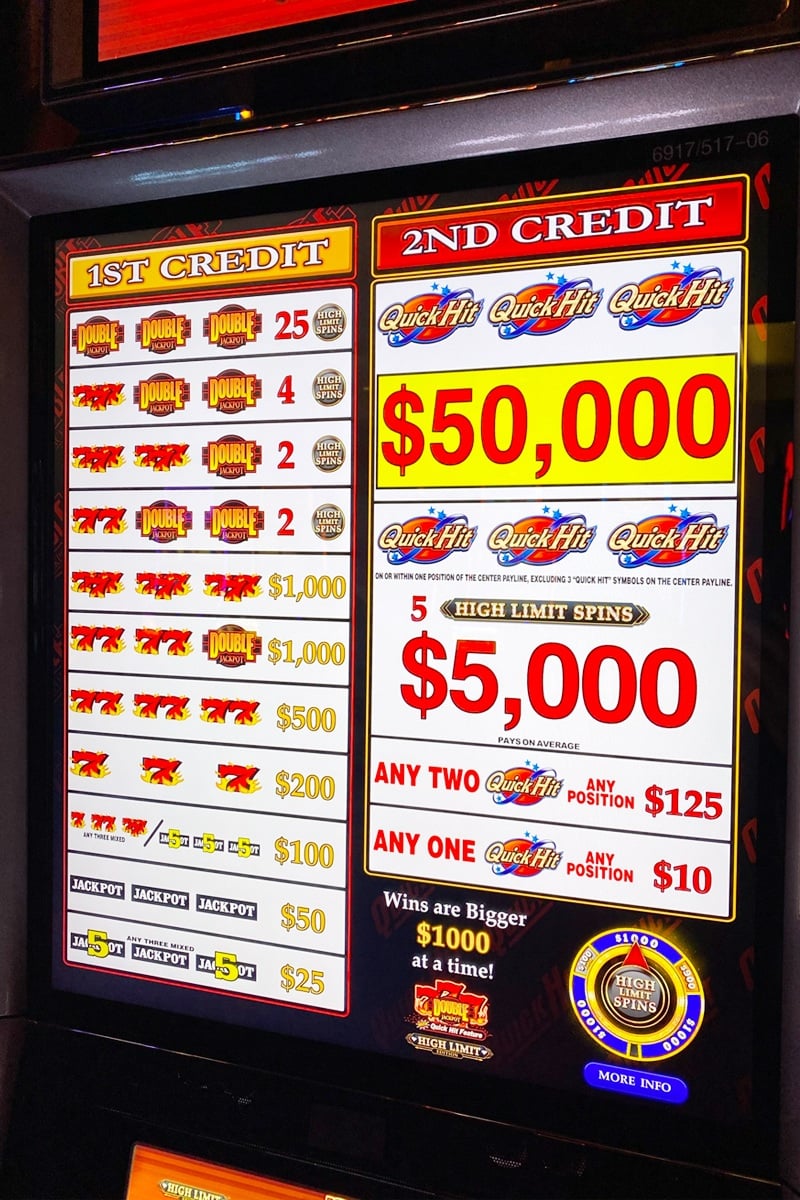 Here are the pay tables for the $10 and $25 denominations.

While the bonus aspect is the big draw of Double Jackpot Blazing 7s With Quick Hit, like other games, you have to get the bonus to take advantage of the benefits we've discussed.
We played all the machines and had, as it's known in gaming industry parlance, "our ass handed to us." It was brutal.
High limit is called "high limit" for a reason. We blew through our gambling budget quickly, and never saw that magical assembly of "Quick Hit" symbols (you need three on the screen to get the spin bonus).
We had a few instances of two symbols (which pays $125 on at the $5 denomination), but never three.
We will, however, try again.
It's worth noting not all the machines had the option of a $5 denomination. The configuration can be variable denominations ($5, $10 and $25) or one ($10). The machine at Circa had variable denominations, the ones at The D and Golden Gate were set at a fixed $10 denomination.
The payouts are good at one credit, but to have a chance at the high limit spins, it takes two credits. In Vegas, it's go big or go home. Or, occasionally, go big and go home. Either way, it's fun as hell.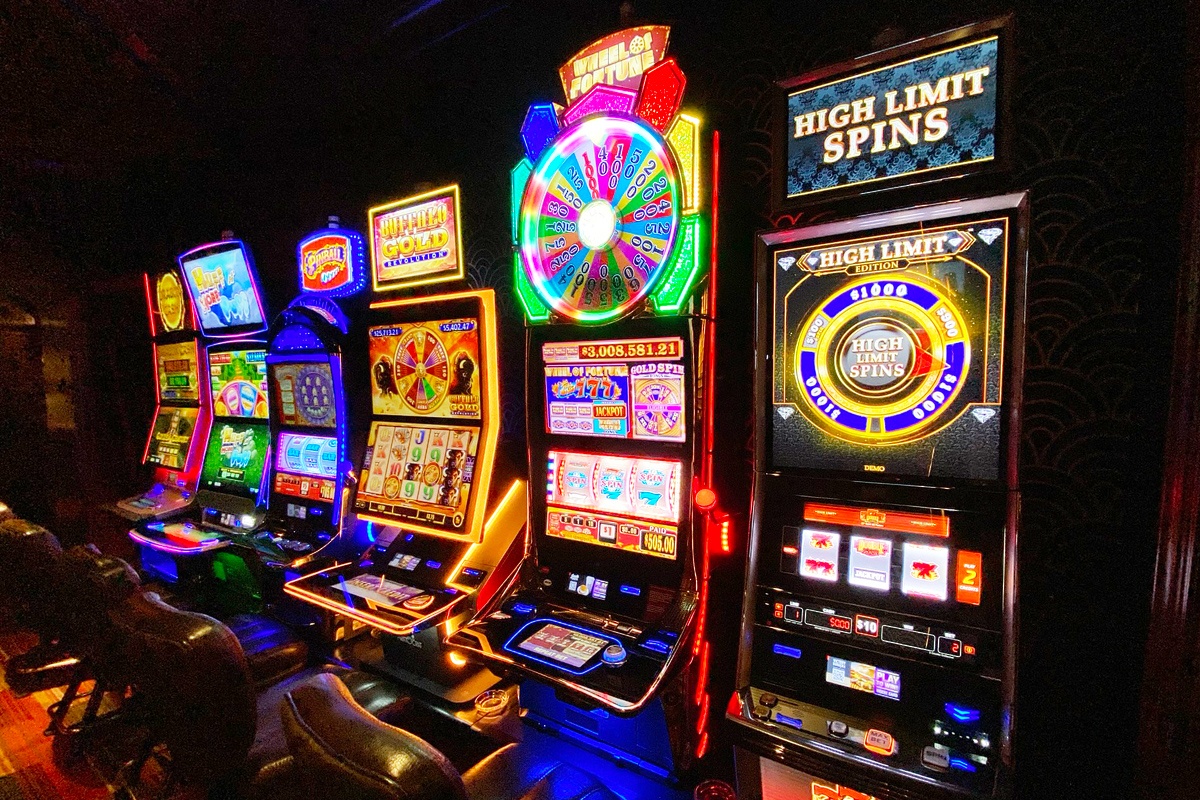 An item of note: If you hit a straight-up jackpot (three "Quick Hit" symbols on the payline, for $50,000, $100,000 or $250,000, depending upon the denomination), you have to jump through the usual IRS hoops, of course.
We should also mention: The taxable reporting process done by casinos is required by the IRS, but players are technically obligated to claim all their gambling winnings on their taxes, whether there's been a W-2G filed or not. Every slot player does this, definitely. Just like table games players do. Yeah, we went there.
As for the future of Double Jackpot Blazing 7s With Quick Hit (High Limit Edition), we're curious if its creative way of skirting the irksome tax paperwork process will be revisited by regulators, or if it could mean other slot makers will seize the opportunity and build similar crowd-pleasing features into their games.
We trust hitting that high limit bonus feature is a genuine thrill. Even if you hit the $0 spot (once every 999 spins), you aren't really losing anything. And the whole time you're racking up credits, you get to skip the machine locking up while you wait for a handpay. High rollers will often hit a taxable win and jump to another machine, where they'll hit another handpay and so on. It's just more evidence the threshold needs to change. Drop a line to your legislator.
While we can't afford to play high limit slots for very long, they are fun because when you hit, the wins can really move the needle.
We tell visitors to save some of their gambling allowance to try high limit machines (we call it playing an "uncomfortable denomination") for a few spins (or hands in video poker). Machines feel looser (better payback percentages and higher jackpot frequencies) at higher denominations, and getting a handpay is a time-honored Las Vegas experience enjoyed by many visitors. Just not Canadians.
If you try Double Jackpot Blazing 7s With Quick Hit (High Limit Edition), let us know what you think, and enjoy your W-2G-free windfall. Please give some back to support our local economy and tip your cocktail server generously, thanks.
We look forward to sharing the high limit spin experience soon, just as soon as we rest and rehydrate following our recent wallet hemorrhage chasing those damn Quick Hit symbols.
Good luck!