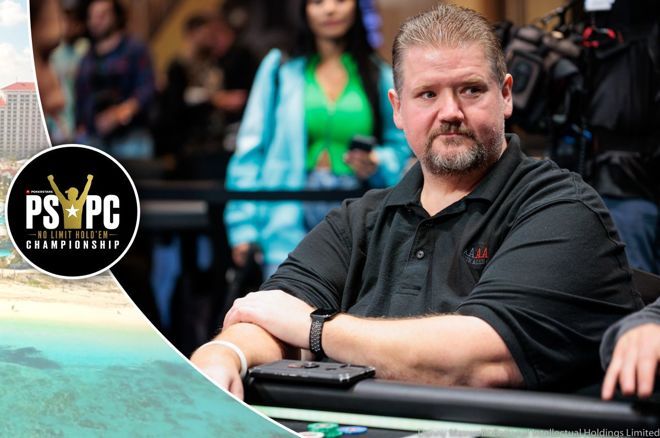 The 2023 PokerStars Players No-Limit Hold'em Championship (PSPC) is in the books. While Aliaksandr Shylko wound up winning the prestigious tournament for $3,121,838, there were 175 players who walked away with a piece of the $24,843,000 prize pool, including some of the more than 400 Platinum Pass winners.
One of them was 50-year-old John Orlowski, who hopped on an airplane for the first time in his life to travel from frigid Michigan to the luxurious Baha Mar Resort in the Bahamas!
"I've never flown. I've never left Michigan, pretty much just Canada by driving," he said. "First time being on a plane. I had to rush my passport. I was going to come by myself but my nephew decided he wanted to come, so he came with me."
The part-time home game dealer won his Platinum Pass on PokerStars Michigan via a "Golden Ticket" giveaway that got him into a freeroll satellite, which he won.
"I played micro stakes, like $5 $10 tournaments, knockouts, and stuff," Orlowski told PokerNews. "I played some like 20-cent slots on there. And then the ticket thing and all the little treasure things you build up from playing. I clicked on it and it said that I won a golden ticket. I was scheduled for the tournament, it was supposed to be on a Tuesday in November I think, but for some reason, they changed it to a Saturday. Not sure whether or not enough people registered. There were only 30 people in it when I won it."
He added: "I got short-stacked in that tournament too. I didn't think I was making a comeback."
But he did, and the victory came at a good point in Orlowski's life as in the preceding years he experience some health issues.
"I can't do too many things because of my health. I've gotten along a lot better than now than I used to. Like last year, I might not have been able to do this, for sure two years ago I wouldn't haven't been able to physically."
With his nephew in tow, Orlowski traveled to Nassau to compete against the world's best where he wound up finishing in 76th place in a field of 1,014 runners, good for $53,400.
Check out our review of PokerStars MI here!
Battling Poker's Best
Orlowski learned to play penny poker with his family when he was six years old, and it wasn't until Chris Moneymaker won the 2003 World Series of Poker (after qualifying via PokerStars) that he was introduced to Texas hold'em. So, what did he do to prepare for the biggest poker tournament of his life?
"I watched a lot of stuff on YouTube about positions, stuff like that, raising in position, how they pick on your blinds," he explained. "So, I used some of that during the regular part of the tournament, but then when it got towards the bubble, I couldn't do much when they were doing it. I know they were picking on me, but I never had many hands."
Orlowski survived Day 1, but it didn't come easy.
"It was crazy, it was strenuous," he admitted. "Much more strenuous later tournament. Poker pros really hammered to get the fish pretty much."
Among the pros Orlowski had to battle were reigning WSOP Main Event champ Espen Jorstad, Jeremy Ausmus, Jared Jaffee, and Conor Beresford. While that may have been a bit intimidating, Orlowski held his own.
In fact, on Day 2 Orlowski won a flip to double through Beresford. It happened in Level 14 (2,000/5,000/5,000) Orlowski raised from early position to 11,000 and was met with a three-bet from Conor Beresford to 26,000 in the cutoff.
The rest of the table folded before Orlowski slid out a four-bet to 86,000. Beresford took some time before five-betting enough to put Orlowski at risk. The call was made and both hands were revealed.
John Orlowski:

Conor Beresford:
Beresford was behind but picked up additional outs on the
flop. The
turn and
river left Orlowski in front to stay alive and double his stack.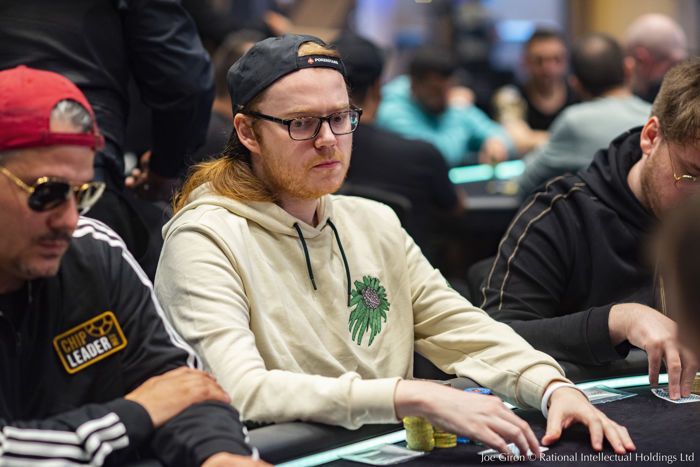 Severin Rasset Talks PokerStars in US: $1M GTD Weekly, Nevada Update & Live Event Return
Making the Money
From there, it was on to Day 3 with the money bubble looming.
"I started Day 3 with like 300k, which was over the average stack. I probably could have just walked away and made the money," said Orlowski. "This tournament was way different than playing in a small home game. People call your raises here. They think about their decisions more, which makes sense given it is more money."
On Day 3, Orlowski not only cruised into the money but instead of min-cashing for $35,100, he began to ladder up. With 77 players remaining, Orlowski eliminated another Platinum Pass winner in Level 20 (10,000/20,000/20,000) when Germany's Bastian Hess was all in and at risk in a heads-up pot against Orlowski.
Bastian Hess:

John Orlowski:
Hess couldn't hit a jack despite calling for one on every street as the board ran out
to mark his elimination in 77th place for $53,400. Unfortunately for Orlowski, he followed him out the door a short time later in 76th place for the same payout.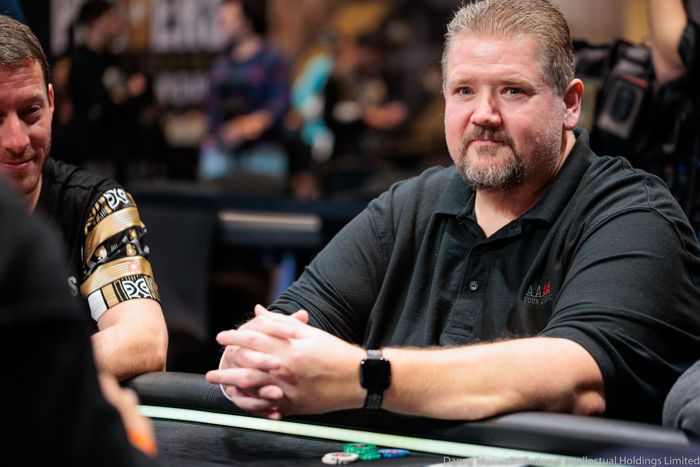 "It was a great time," Orlowski told PokerNews the next day. "Everybody with PokerStars, from the top down, they helped us with a lot of things. If we had any questions, they answered them. We got taken care of very well."
As for the money, that's going to come in handy.
"The reason I started playing online as I used to live in the Detroit area so I could go anywhere and play the casinos there, but now I've moved up north," Orlowski explained. "There are no places near me with games. So, you gotta drive and they got one charity room up there but it's just not worth driving to … I gotta fix up my new place. I just bought a truck. Where I live it's snowing and cold, so you've got to have a truck."
It started with a Golden Ticket, turned into a Platinum Pass, and ended in the poker adventure of a lifetime… plus $50,000 in cold hard Michigan cash!
Executive Editor US, PokerNews Podcast co-host & 2013 WSOP Bracelet Winner.
Related Tournaments

Related Players