Three of the six dolphins at Mirage's closed Secret Garden and Dolphin Habitat have been moved to Sea World in San Diego.
The Mirage dolphins tend to get people whipped up (three died within a six-month span), so the move was kept top secret until after the dolphins were transferred.
The relocated dolphins were Osborne, Sofi and Karli (Sofi's offspring).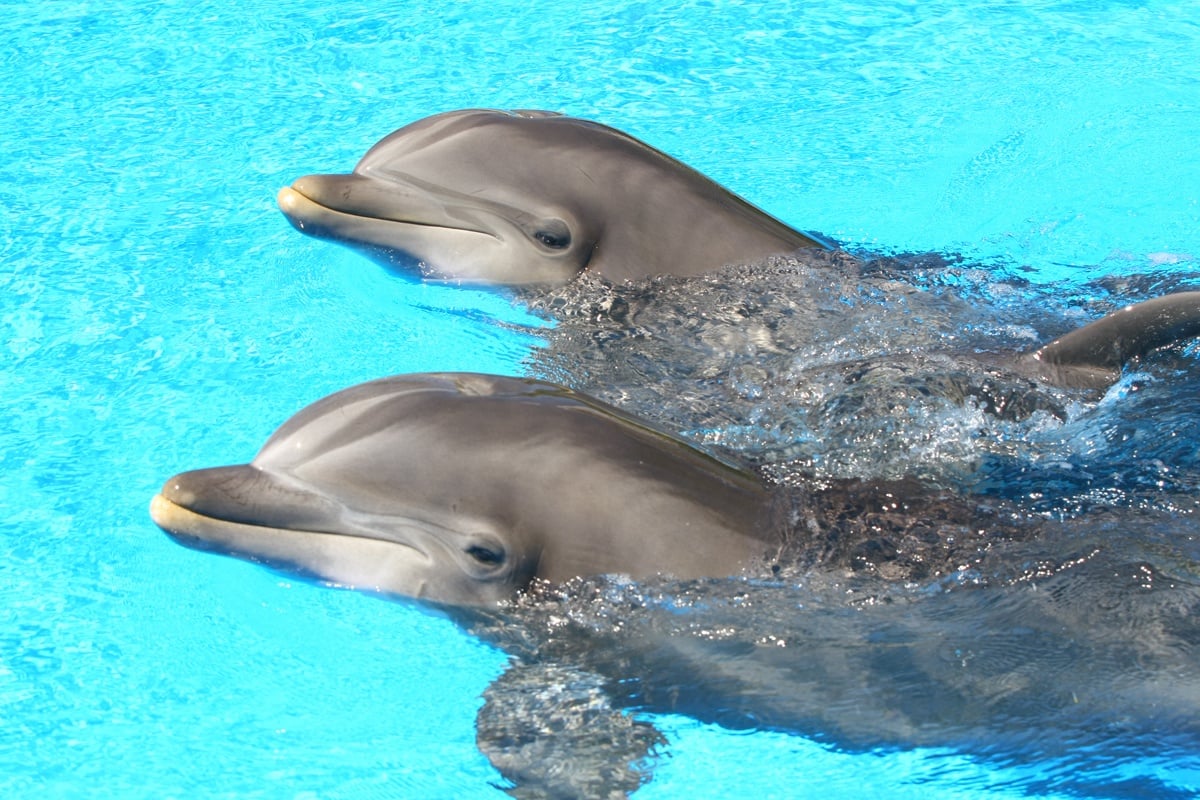 Animal activists, as well as laypersons like us, have long criticized Mirage for keeping dolphins in captivity in the desert. Sixteen dolphins have died at Mirage since it opened, or about one every two years.
When Hard Rock International purchased the operations of Mirage from MGM Resorts, the decision was made to close the attraction and relocate the dolphins and big cats.
Hard Rock is licensing the Mirage name from MGM Resorts until a major renovation is complete and the resort opens as Hard Rock Las Vegas in 2025.
According to Mirage, the dolphins were on loan from Sea World.
The president of Mirage, Joe Lupo, released a statement saying, "We are returning the dolphins to Sea World in San Diego in accordance with Mirage's contractual commitment to do so when Sea World originally loaned these dolphins to the Mirage Dolphin Habitat."
To which we replied, "Who knew?"
What Lupo didn't say is how or when the relocation happened.
The answer, of course, is "surreptitiously." Or possibly "discreetly," if you don't think everything's a conspiracy, like we do.
Poor Joe Lupo. The dude just wanted to open a new resort on the Las Vegas Strip and he has to deal with an ongoing kerfuffle. (To his credit, he was very helpful in correcting a recent rumor yet another dolphin had died, which was not the case. There have been so many deaths, it's possible our source, an employee, was relaying the death that happened three weeks ago, confusing it for something more recent.)
If you're keeping score, Osborne was born at Sea World Texas and Sofi was born at Sea World San Diego. Karli was born in 2018 in Las Vegas, so she wasn't borrowed from Sea World, but Mirage didn't get all that granular in its statement. Mirage leadership knows they're stepping into a potential minefield whenever they say or do anything, so they're keeping information on a purely need-to-know basis. The father (Razzle) of one of the remaining dolphins, Lady Aces, is a Sea World San Diego dolphin, so it's unclear why she's still here.
The three remaining Mirage dolphins are named Huf-N-Puf, Coco and the aforementioned Lady Aces, all born at Mirage.
We always assumed the dolphins would go to sanctuaries, but apparently, there aren't any. The dolphins would not survive if released into the wild, presumably.
Sea World has taken some P.R. hits in recent years, but at least the dolphins won't be subjected to 120-degree days all summer.
The fate of the three remaining dolphins is unknown.
Plans are also reportedly in the works to relocate the big cats at Mirage, but the situation is a bit more complicated than for the dolphins.
The cats aren't owned by Mirage or Hard Rock. The exhibitor license, we're told, belongs to S&R Production Co. The "S&R," of course, stands for Siegfried and Roy, the iconic magicians no longer with us. The enigmatic duo has been relocated to that big cat sanctuary in the sky.
There's been no update about how, when or to where the cats at Mirage will be relocated.
The closure of Mirage's Secret Garden and Dolphin Habitat, and the rehoming of the animals, marks the end of an era, and about damn time.
Recent Stories…