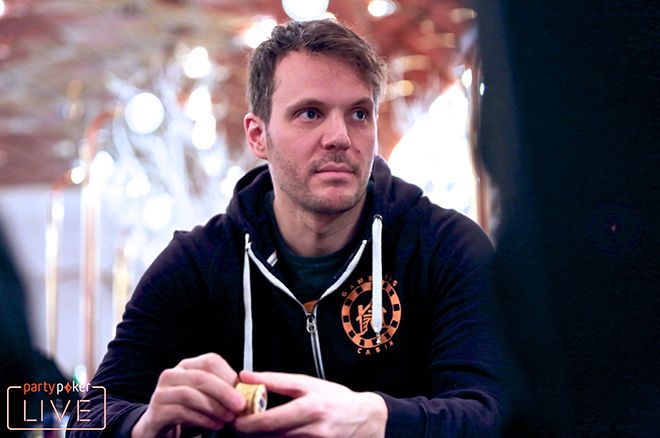 Many pot-limit Omaha players claim Sweden's Bengt Sonnert is one of the best PLO players in the world, especially those who have shared a table with him. Sonnert added weight to those claims by taking down the $2,100 Omaha Championship event at partypoker on August 23.
The tournament attracted 161 entrants, who created a guarantee-busting $322,000 prize pool. Only 24 of those starters made it through to Day 2, each of them guaranteed to walk away with at least $4,911. It was Sonnert's day, however, and he was worthy of the title and the tournament's $71,239 top prize.
WPT #02 Omaha Championship Final Table Results
| Place | Player | Country | Prize |
| --- | --- | --- | --- |
| 1 | Bengt Sonnert | Sweden | $71,239 |
| 2 | Patrick Hyllegaard | Denmark | $49,032 |
| 3 | Anton Suarez | Sweden | $34,556 |
| 4 | Veselin Karakitukov | Bulgaria | $23,639 |
| 5 | Jesper Nordkvist Brodin | Sweden | $17,204 |
| 6 | Kristoffer Jakobsson | Sweden | $13,454 |
| 7 | Shuxrat Salixov | Uzbekistan | $10,920 |
Twenty-four players sat down on Day 2 of the WPT #02 Omaha Championship, and what a final 24 they were. Such luminaries as Yuri Dzivielevski (24th – $4,911), Andras Nemeth (21st – $4,911), Niklas Astedt (17th – $5,156), Ola Amundsgaard (14th – $6,118), Joao Simao (9th – $9,084), and Ka Kwan Lau (8th – $9,084), fell short of the seven-handed final table.
Each of the seven finalists guaranteed themselves a five-figure score, but they all wanted the victory, which came with $71,239 and adoration from their fans.
How To Qualify For the $5M Gtd WPTWOC Main Event For $0.01
Shuxrat Salixov was the first finalist to bow out, and Kristoffer Jakobsson joined him on the sidelines shortly after. Jakobsson was one of four Swedish stars at this final table.
Jakobsson's fellow Swede Jesper Norkvist Brodin fell in fifth place. He committed his stack preflop with a pair of aces in the hole against Veselin Karakitukov's queens, but Karakitukov flopped trip tens to send Nordkvist Brodin home earlier than he would have liked.
Karakitukov was the next player heading for the showers despite boosting his stack with the previous elimination. A preflop raising war against Sonnert left Karakitukov with a quarter-pot-sized bet left in his stack. Those chips went into the middle with a pair of aces on an all-heart six-high flop. Sonnert did not have the flush, but he had flopped a straight.
Former MILLIONS UK Main Event champion Anton Suarez was the next player left wondering what could have been. Suarez raised all-in with top pair top kicker on a jack-high flop after Sonnert had led out. Sonnert called with a pair of queens and a club flush draw, and improved to a flush on the river.
That hand gave Sonnert a huge advantage going into heads-up against Patrick Hyllegaard; he held 12,752,700 chips to the Dane's 3,347,300 stack. Hyllegaard showed signs of making a comeback, but Sonnert stopped any hopes of a comeback in its tracks.
The final hand saw all the chips go in on a king-high flop. Hyllegaard flopped two pair, kings and fives, but Sonnert held the nut flush draw and an open-ended straight draw, so made the call. The turn was a brick, but the nine of hearts river gifted Sonnert a flush, the title, and $71,239 in prize money.
Kristen Bicknell, Partypoker Part Ways: 'It's Been a Great Four Years'
Luiz Orrico Crowned WPT #01 Opener Champion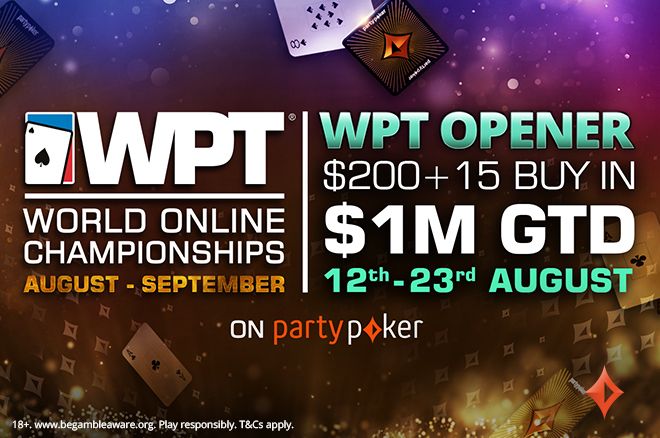 The 2021 WPT World Online Championships has crowned its first champion, and Brazil's Luiz Orrico is that man. Orrico came out on top of a 4,777-strong field in the $215 buy-in $1 million guaranteed PKO event, and walked away with the title of champion and $93,751 in prize money.
Victory not only came with a hue payout, but it awarded Orrico precious WPTWOC Player of the Championship leaderboard points, giving him the chance to get his hands on a share of $50,000 cash when the series concludes.
WPT #01 Opener Final Table Results
| Place | Player | Country | Bounties | Prize | Total Prize |
| --- | --- | --- | --- | --- | --- |
| 1 | Luiz Orrico | Brazil | $34,815 | $58,936 | $93,751 |
| 2 | Luiz Zattar Martins Jr | Brazil | $9,898 | $58,828 | $68,726 |
| 3 | Shawn Walbridge | United Kingdom | $2,429 | $36,617 | $39,046 |
| 4 | Ilija Savevski | Malta | $4,317 | $24,465 | $28,782 |
| 5 | Jeniffer Ritter Da Silva | Brazil | $2,556 | $16,710 | $19,266 |
| 6 | Joel Nystedt | Sweden | $9,841 | $11,866 | $21,707 |
| 7 | Jordan Warrilow | United Kingdom | $2,374 | $8,242 | $10,616 |
Some 704 players made it through to Day 2 from more than three dozen flights, each of them guaranteed a slice of the main prize pool, plus any bounty payments they picked up along the way.
Several members of Team partypoker were present and correct on Day 2, but none of them managed to navigate their way to the seven-handed final table.
Patrick Leonard (647th – $346), Day Kotoviezy (323rd – $551), Matt Staples (85th – $1,331), Jaime Staples (38th – $3,880), and Joao Simao (11th – $8,247) were the orange diamonds in the Day 2 field.
Each of the seven finalists locked in more than $10,000 for their initial investment when bounty payments were added to their main prize pool payout. British grinder Jordan Warrilow was the first finalist out of the door, his seventh-place finish coming with a $10,616 prize.
Joel Nystedt was the most experienced player at the final table, but he could not quite put that experience to full use, and he had to make do with a $21,707 payout. Thanks to the bounty element of The Opener, Nystedt collected slightly more than the $19,266 haul enjoyed by fifth-place finisher Jeniffer Ritter Da Silva.
partypoker Has a Superb Prize For McLaren Superfans
Fourth place and $28,782 went to Malta-based star Ilija Savevski before Shawn Walbridge of the United Kingdom ran out of steam in third, a finish worth $39,046.
Walbridge's exit guaranteed The Opener would be won by a Brazilian because it left Luiz Orrico heads-up against Luiz Zattar Martins Jr. Both heads-up players secured almost $59,000 from the main prize pool, but the final bounty payment was nothing short of massive, so there was everything to play for.
Orrico managed to defeated his fellow countryman, resulting in a $34,815 bounty payment being added to his $58,936 first-place prize, for a combined score of $93,751. Martins Jr walked away with $68,726 reasons to be delighted with his runner-up finish.