A Cuban restaurant, Havana 1957, is coming to Flamingo Las Vegas, news sure to make your grandparents' heads explode.
Havana 1957 Cuban Cuisine will move into the former Tropical Breeze Cafe, across from the former buffet space.
The restaurant hasn't been officially announced yet, but we find official announcements about as exciting as golf on T.V.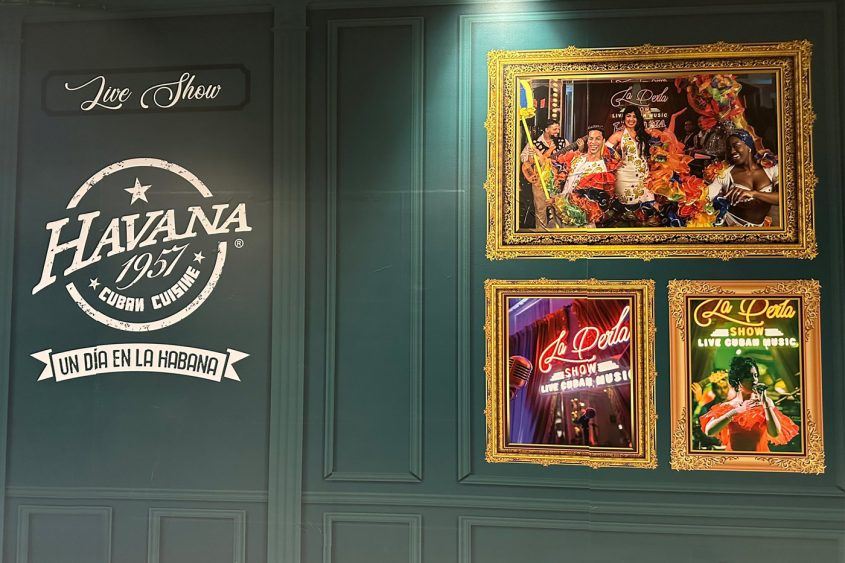 Big thanks to our friend @JamesinLasVegas for spotting the new construction wall at Flamingo. James gets around a lot and makes it seem like we're everywhere, when actually we spend the majority of our time in a hammock watching clouds, most shaped like neon signs or exotic dancers for whatever reason.
The Las Vegas Strip could probably use a Cuban restaurant. Prior to this, if someone asked where they could get Cuban food in Vegas, we'd say "Good luck with that."
We have no idea if the food at Havana 1957 will be good, but it's a chain, so they're already ahead of the game.
The restaurant's operators have several restaurants in Las Vegas already, including Cafe Americano at Paris and Caesars Palace, along with the fantastic Mercato Della Pescheria at Venetian.
Havana 1957 has multiple locations in Miami, Florida, where Cuban food is king, so that bodes well.
The restaurants are operated by Vida & Estilo Restaurant Group. "Vida" means "life" and "Estilo" means "stop wearing hats in restaurants, idiots."
The Havana 1957 Web site says the restaurants give guests the opportunity to "experience the glory and glamour of old Cuba during the 1950s."
See, things were different in Cuba in the 1950s, it was a huge destination for those seeking an adult playground. Havana was described as "a mistress of pleasure, the lush and opulent goddess of delights" by Cabaret Quarterly in 1956. Read more.
Essentially, Havana was then what Las Vegas has become, just without resort fees.
Fidel Castro took power in 1959. One of our favorite documentaries about this era is "Bananas," by Woody Allen, a popular film writer and director before things got awkward.
The history of Cuba is complicated and nuanced, so we definitely aren't going to tackle it in our blog. Fun fact: Our dad was on the U.S.S. Enterprise during the Bay of Pigs.
Anyway, you can check out the various menus for the existing Havana 1957 locations on their Web site.
Havana 1957 offers all your favorite Cuban dishes including burgers, salads and chicken sandwiches.
The "Pollo Havana 1957 Signature Roasted Chicken" seems to be the featured item, "A Cuban family recipe of roasted chicken marinated in-house in a delicious Cuban gravy that delivers a delightful citric and Caribbean spices notes. Served with white rice, black beans, roasted premium potatoes and sweet plantains."
We figured Carlos'n Charlie's at Flamingo would be a little freaked out by the looming competition, but that's because we assumed Mexican and Cuban food are the same things with different names.
Apparently, Cuban food is less spicy than Mexican food because it is a combination of Spanish, African and other Caribbean cuisines. Mexican food is much more corn-oriented.
As with Carlos'n Charlie's, we expect the atmosphere at Havana 1957 will be lively and booze-fueled.
As there's been no official announcement of the restaurant, there's no opening date yet. The over-under is fall of 2023. You'll know when we do.
11 Comments
Recent Stories…