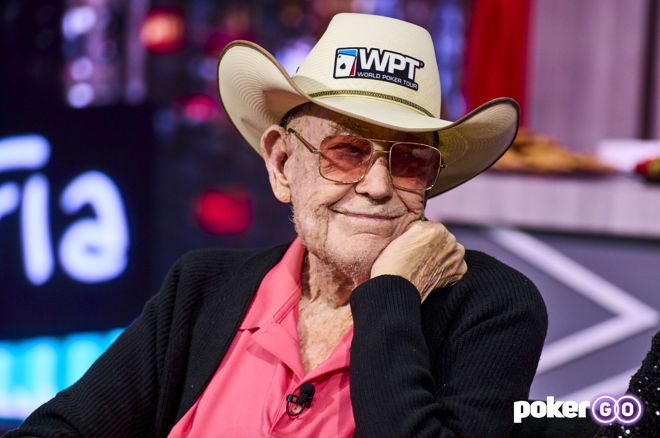 Krish Menon took a gamble in a $279,000 pot against Doyle Brunson in the latest edition of High Stakes Poker that paid off thanks to sucking out in consecutive runouts.
Episode 6 of Season 9 on PokerGO had a familiar cast of characters for those who caught last week's show. Garrett Adelstein, the Los Angeles high-stakes poker pro, began with the same massive he finished with from Episode 5. Menon, who has played against "G-Man" numerous times on Hustler Casino Live, started off with a small stack that he'd work to build up (and also get lucky).
Here's how things stacked up at the start of the show:
| Player | Stack |
| --- | --- |
| Garrett Adelstein | $601,500 |
| Kim Hultman | $354,800 |
| Jennifer Tilly | $245,100 |
| Tom Dwan | $242,200 |
| Doyle Brunson | $226,500 |
| Xuan Liu | $144,500 |
| Patrik Antonius | $114,600 |
| Krish Menon | $48,600 |
Awful Turn Card for Brunson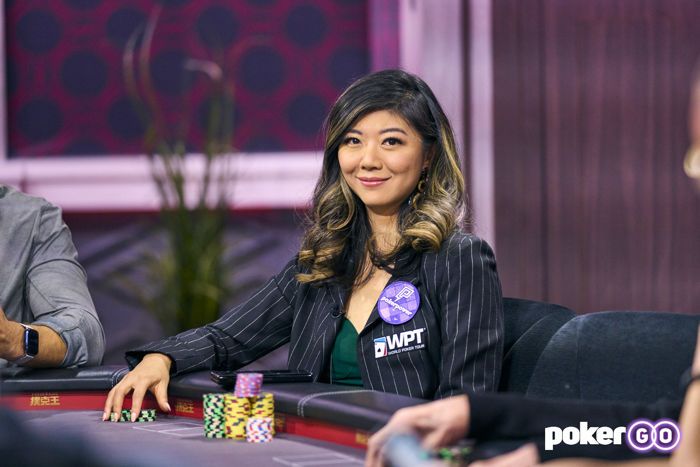 The game was $200/$400 no-limit hold'em, and Xuan Liu raised in early position to $1,200 with
. Brunson called in late position with
before Jennifer Tilly three-bet to $5,000 from the button with
. Liu and Brunson both called and they all saw a flop of
.
Action folded to Tilly, who bet $7,000 with her gut-shot straight draw. After Liu called, Brunson check-raised to $24,000, but only Liu made the call. The turn was the
, not exactly the card "Texas Dolly" wanted to see as it could have potentially counterfeited his two pair. Both players checked.
When the
appeared on the river, Liu spotted an opportunity to turn her ace-high into a bluff, so she bet out $50,000 into a pot of $71,000. Brunson, disappointed his flopped two pair had weakened, folded the best hand.
---
Free to Play Slots in the US
Hand of the Day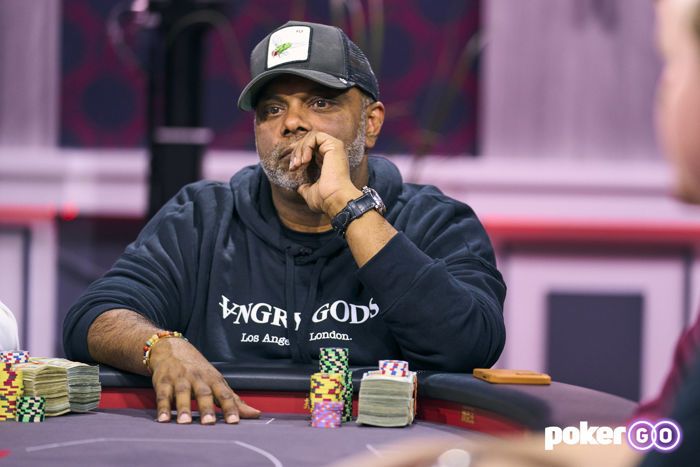 Menon, a wealthy entrepreneur, had begun to chip up after winning a three-way all in with
against Tom Dwan and casino streamer Kim Hultman, aka "LetsGiveItASpin."
Midway through the show, the man known as Krish around Los Angeles poker circles played a massive pot against a poker legend. Brunson was in the straddle ($800) with
and was facing a $2,500 raise from Tilly and her
. Adelstein, with
and Menon, holding
, had already called.
When action ended up on the straddler, Doyle popped it to $10,800, and he didn't get anyone to fold. The flop came
and Brunson, first to act, bet aggressively — $50,000. Tilly and Adelstein moved out of the way, but Menon, sitting on middle pair, moved all in for $117,000 total. Brunson snap-called, creating a pot of $279,000.
Both players agreed to run it twice with Doyle a heavy favorite out in front of middle pair. The first runout came out
, giving Krish at least half the pot. On the second runout, the turn was the
, clean for Brunson. But the river
gave the entire six-figure pot to Menon on a double suck-out.
Past High Stakes Poker Recaps
Check out our past recaps from Season 9 of High Stakes Poker on PokerGO:
Episode 7 will air at 5 p.m. PT next Monday on PokerGO. Fans can watch every episode, past and present, on-demand by purchasing a PokerGO subscription. We'll get to see next week if Adelstein was being too hard on himself or if his play wasn't up to the quality his fans are accustomed to seeing.
*Images courtesy of PokerGO.