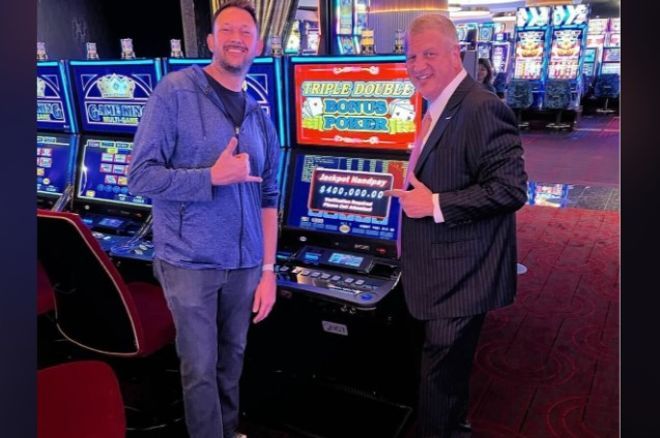 Hitting one jackpot at any point in your life is amazing. Now imagine getting a second one just six months later. That's exactly what happened to poker player Robbie Schiffbauer who won a $400,000 video poker jackpot at Circa Las Vegas this week.
In March, the same individual also claimed the largest bounty in a €2,700 European Poker Tour (EPT) Mystery Bounty event, which paid him €50,000. As a small bonus, he also received €5,480 for his 37th place finish in the no-limit hold'em tournament.
Quad Aces on Video Poker Game
Schiffbauer, who resides in Las Vegas, was playing the maximum credits (five) on a $100-per-credit ($500 per spin) Triple Double Bonus video poker machine. He had $1,810 in the machine when he was dealt a hand that didn't give him much of a reason to get excited initially. So, he only held the
, removing the other four cards, and hoped to connect on the redraw.
The four cards that would come out were quite improbable —
. That gave him quad-aces, along with the perfect kicker. In the game he was playing, four-of-a-kind with a kicker lower than a 5 pays significantly higher than having a higher kicker. He was paid 4,000 credits, or $400,000, the exact same payout for a royal flush (800 times the bet) on that game.
Shortly after hitting the jackpot, the poker player was greeted and congratulated by Circa CEO Derek Stevens. The two snapped a picture together in front of the lucky machine, which displayed the $400,000 hand-pay. Circa shared the photo on the casino's Instagram page.
As a poker player, Schiffbauer has $341,000 in live tournament cashes, according to Hendon Mob. His largest score on the felt was for $127,109 when he finished second place in a 2016 no-limit hold'em event at the Asia Championship of Poker series in Macau, China. He resides in Las Vegas but plays cards all around the world. In total, he has 72 recorded cashes on his Hendon Mob profile, all since 2017. And now two lucky jackpots.
Schiffbauer's jackpot was far from the biggest one at Circa, a downtown Las Vegas casino resort, during the month of September. Last week, one lucky guest hit a $1,250,033 spin a penny slot machine with just a $4-per-spin bet.
While sweating the Rams and Falcons ⁦@mattyoumans247⁩ to my left ⁦@TMays702⁩ to my right this just happened ⁦… https://t.co/xc4VcMaEkk