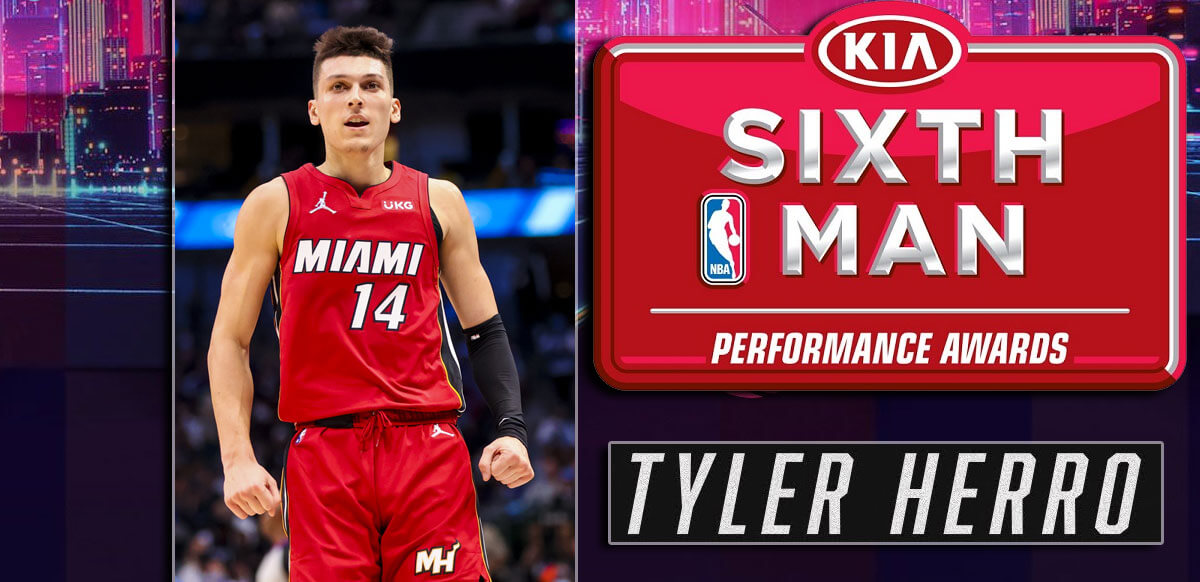 Tyler Herro was named as the NBA's 2022 Sixth Man of the Year winner.
Herro was the only bench player in the NBA to average more than 20 points per game this season.
The third-year guard from the Miami Heat opened with the 5th best odds to win the award at +1100.
Tyler Herro made history on Tuesday as he became the first player from the Miami Heat to win the NBA's Sixth Man of the Year award.
Herro garnered 96 first-place votes and a total of 488 points to finish ahead of Kevin Love and Cam Johnson who had 214 and 128 points, respectively in the media voting for the award. But while the voting was lopsided in Herro's favor, he was not the betting favorite when the betting lines for the NBA's Sixth Man of the Year opened last year.
Herro Had Preseason Odds of +1100
Tyler Herro has won the NBA 6th Man of the Year ? pic.twitter.com/DbNMHe5DMA

— Action Network (@ActionNetworkHQ) May 3, 2022
Last August, it was Jordan Clarkson who opened as the odds on favorite to win a second straight Sixth Man of the Year award at +550. Joe Ingles, who finished second behind teammate Clarkson in the 2021 Sixth Man of the Year voting, was second at +700. Meanwhile, Derrick Rose was third at +900, followed by Tyrese Haliburton at +1000. Herro came in fifth with his +1100 odds.
But Herro balled out during the preseason games as he was one of only four players to average 20 points on 50% shooting and 40% three-point shooting. The others were Zach LaVine, Kevin Durant, and Steph Curry. Although it was just preseason play, Herro caught the attention of the best NBA betting sites and immediately moved as odds on favorite at the start of the regular season.
Herro's odds quickly shortened after he averaged 22.0 points, 6.5 rebounds, and 4.5 assists per game in October. He was as impressive in November, putting up 21.7 points per game on 40.0% three-point accuracy. By the end of November, Herro's odds were at -110 while the second player on the list, Clarkson, was already too far back at +1300. By February, Herro had become a massive -1400 to win the award. BetOnline had him at 1/200 at the start of April with his closest pursuer being Kevin Love and Kelly Oubre Jr. at 50/1.
Same Conversation as Luka, Trae, and Ja
People are opinionated when it comes to Tyler Herro's future and how he projects, so I asked him where he sees himself in the mix

He told me he should be grouped with the likes of Luka Doncic, Trae Young, and Ja Morant as possible future stars

Listen ? pic.twitter.com/fQjM2fWEAN

— jeremy taché (@jeremytache) October 12, 2021
It wasn't too long ago when Herro drew flak for saying that he belonged to the same conversation as his fellow young stars Luka Doncic, Trae Young, and Ja Morant. You couldn't blame the critics, however, as Herro was coming off a disappointing sophomore season where he played in only 54 games and averaged 15.1 points, 5.0 rebounds, and 3.4 assists per game. However, Herro proved his detractors wrong.
Herro averaged a career-best 20.7 points per game this season while also grabbing 5.0 rebounds and issuing 4.0 assists per game in 32.6 minutes of game time in 66 games with only 10 stars. Herro led all bench players in scoring this season and was only the 5th player in NBA postseason history to average over 20 points per game while coming off the bench. His 8 30-point games were third-most this season and his 20 25-point games were fourth-most in the league.
He helped the Heat finish with a 59-23 SU record, the best in the Eastern Conference. After struggling in the first round where he averaged only 12.8 points per game on 36.2% field goal shooting, Herro bounced back to life in Game 1 of the Heat's second-round series against the Philadelphia 76ers with 29 points on 4-6 three-point shooting with seven assists. The Heat play the Sixers on Wednesday night for Game 2 of the series. Miami is currently listed as an 8-point spread and -400 Moneyline favorites to beat the Sixers in that game.