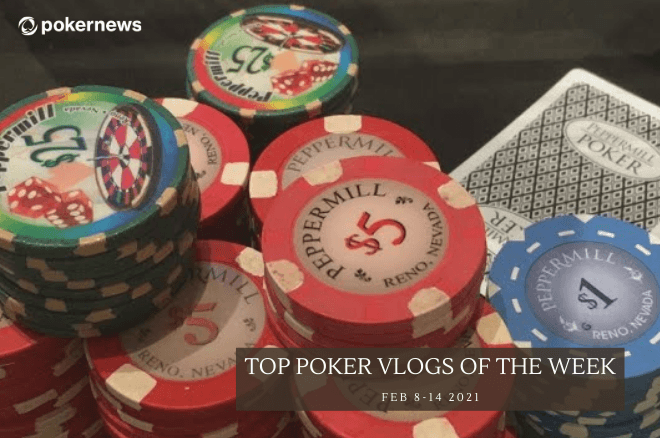 A good number of poker players have turned their love of poker into a more creative and productive endeavor, making video content out of their poker adventures and posting them in the form of vlogs on YouTube.
In this piece, PokerNews highlights some of our favorite poker vlogs posted within the last week. Check back with us each week as we point you in the direction of some new poker content you might not have seen yet!
Ryan Depaulo: Degenerate Gambler
Ryan Depaulo has made a splash in the poker world over the past few years. Depaulo has built a strong following always ready to shout "Parkour!" if they spot him out and about. After a deep run in the Colossus, Depaulo scored his first WSOP Gold Bracelet while parked in a Whole Foods parking lot during the 2020 WSOP Online Bracelet Series. Depaulo's most recent vlog finds him in Hollywood Florida playing in a $600 Six Max NLH tournament.
Ben Deach
Ben Deach works as a Morning Show Reporter at KOLO 8 News in Reno Nevada. Deach frequents the Peppermill Poker Room and other rooms around Reno and throughout the state of Nevada. Deach shows a natural talent in his vlogging style that he must have perfected in his career. Check out his most recent vlog below.
Andrew Lok
Andrew Lok is based out of the Bay Area of California. Lok has been posting poker vlogs on his Youtube channel for nearly 2.5 years. Lok's vlog style is one of the cleanest and sharpest that we've seen. With a natural story telling ability and clean shots, Lok's vlogs should definitely be on your list to follow. Watch his latest vlog below.
Cato "PokerBEAST"
On Feb 1, Cato posted his first poker vlog on his new Youtube channel. 2 weeks later, Cato had his 8th video online already. 8 videos in 14 days is not a pace you'll see in many places but throughout the videos, Cato has continued to deliver captivating content. With such a new exciting channel, we will let you hear Cato's own description of what you can expect. "I am a low-stakes poker player who wants to push out great poker content and build a community of PokerBEASTs, where we can learn, grow, and enjoy this beautifully complex game together."
Check out one of Cato's most recent vlogs below!
Come back next week for another list of exciting poker vlogs!