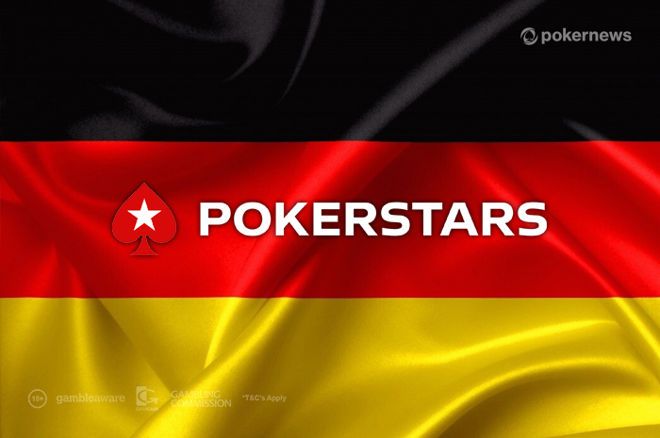 Poker players living in Germany are preparing themselves for some sweeping changes to how they play at PokerStars. Significant changes come into play from July 1, including a substantial rake hike, restrictions on the number of tables played, and a limit on the stakes available.
The changes revolve around what the German government calls Glücksspielneuregulierungsstaatsvertrag, which translates to the State Treaty on Gambling Reform. The new law sees PokerStars pay a 5.3% tax on turnover, which means buy-in in online poker circles. This new tax means PokerStars is on the hook for $5.30 if a player buys into a cash game for $100 and plays even a single hand.
Whereas Unibet Poker is considering ceasing all cash games, sit & go tournaments, and its loyalty program for Germans, PokerStars is implementing several changes so it can continue offering its services to German residents.
Former PokerNews Senior Editor Mo Muwwarah penned an article in October 2020 highlighting some of the changes German players face. They include:
Germans can only play on a maximum of four tables simultaneously
They cannot table select or choose their own seat at said tables
Deposits are capped at €1,000 per calendar month
A "panic button" must be available, which instantly imposes a self-ban for 24 hours
With the July 1, 2021 date looming, an article has appeared on the PokerStars Blog detailing the major changes to cash games, rake, StarsRewards, and more.
Online Poker in Germany Upended By New Legislation
---
Cash Game Changes
Cash Game Stakes Reduced
PokerStars states it is no longer viable for the site to offer high-stakes cash games due to the new 5.3% turnover tax. This means from July 1, 2021, players residing in Germany can only play the following games:
No-Limit and Pot-Limit games up to $1/$2
6+ Hold 'em games up to $2/$2
Tempest games up to $1/$2.50/$5
Fixed Limit games up to $3/$6
Pool Block
In addition to removing higher stakes cash games, German players will be forced to play a predetermined number of hands whenever they sit at a cash game table. A "Pool Block" system has been part of PokerStars' 6+ Hold 'em games for some time. The system prevents players from playing very short sessions at the cash games tables.
When the Pool Block system is triggered, players cannot leave the table without triggering a time penalty, which prevents them from re-joining cash games. Germans will find the Pool Block system in place across all cash games from June 30, 2021.
PokerStars Rolls Out Short Deck Online Cash Game, 6+ Hold'em
---
Cash Game Rake Changes
PokerStars is increasing the rake German players pay in its cash games by up to 35%. A rake increase of approximately 25% is in place for most No-Limit and Pot-Limit cash games, with an approximate 35% increase levied on Fixed Limit games. There are currently no plans to alter the rake taken from 6+ Hold 'em.
Germany players remain in the shared liquidity pool, but their rake is significantly higher. The rake is calculated upon completing a cash game hand and has no bearing on non-German players. You will notice German players pay more rake than you if you are involved in a chopped pot, for example.
Check out the new rake schedule for the various cash games here.
Spin & Go Your Way to a PokerStars Sunday Million Seat!
---
Tournament Poker Changes
Spin & Go and Sit & Go
German Spin & Go players can no longer enter games with a buy-in of more than $50. Furthermore, there are several changes for Germans who grind sit & go tournaments.
First, heads-up sit & go (HUSNG) and most sit & go satellites become unavailable to German residents. Several Hyper-Turbo Sit & Go's will be removed from the lobby, also. However, PokerStars says the vast majority of Turbo, and Regular Speed sit & go games will still be available.
Multi-table players will be pleased to learn that no changes are planned for PokerStars' scheduled tournaments or its Grand Tour product.
PokerStars Revamps its Stars Rewards Program
---
Stars Rewards Changes
The number of rewards points earned by German players is reducing. Currently, Germans receive 45 reward points for every $1 paid in scheduled tournament fees, and 100 reward points for every $1 spent on Zoom or cash game rake, and in all other tournament fees.
This changes from mid-July, although no concrete date is set. The rate for reward points from scheduled tournaments remains at 45 per $1 paid in fees but drops to 80 reward points per $1 spent on Zoom and cash game rake or all other forms of tournament poker.
The reduction in reward points is also in place for games played in British Pounds, Euros, and Canadian Dollars.
---
Payment and Withdrawal Changes
From July 1, 2021, German players must send documents to PokerStars to verify their identity before making a deposit or a withdrawal for each new method.
Payment verification is required pre-deposit and must be obtained for every new deposit method used thereafter
Payment verification must take place at withdrawal if not already verified at the deposit stage
PokerStars encourages German players to send their verification documents via their Cashier at the earliest convenience. There is likely to be an influx of players sending in documents for verification, meaning deposits and withdrawals could be delayed.
---
PokerStars Vegas Changes
It is not only online poker that the new German tax hike affects; the PokerStars Vegas offering is also impacted. Some games will become unavailable for Germans from July 1, 2021. PokerStars has not listed the games and products being removed but has said it is working with game providers to develop a solution.
These significant changes only affect German players residing in Germany. Germans who live outside of Germany, of which there are many, continue as they were before the law comes into place.
---
Details of All Cash Game Changes
US Dollar Ring Games
No Limit and Pot Limit*
| Stakes | % Rake | 2 Player Cap | 3-4 Player Cap | 5+ Player Cap |
| --- | --- | --- | --- | --- |
| $0.01/$0.02 | 4.375% | $0.39 | $0.39 | $0.39 |
| $0.02/$0.05 | 5.1875% | $0.63 | $0.63 | $1.26 |
| $0.05/$0.10 to $0.08/$0.16 | 5.625% | $0.63 | $1.26 | $1.89 |
| $0.10/$0.25 | 5.625% | $0.63 | $1.26 | $2.51 |
| $0.25/$0.50 | 6.25% | $0.95 | $0.95 | $2.51 |
| $0.50/$1 | 6.25% | $1.26 | $1.26 | $3.13 |
| $1/$2 | 6.25% | $1.57 | $1.57 | $3.45 |
*Excluding No Limit and Pot Limit Omaha and Omaha Hi/Lo Micro Stakes
No Limit, Pot Limit Omaha and Omaha Hi/Lo Micro Stakes
| Stakes | % Rake | 2 Player Cap | 3-4 Player Cap | 5+ Player Cap |
| --- | --- | --- | --- | --- |
| $0.01/$0.02 | 4.125% | $0.39 | $0.39 | $0.39 |
| $0.02/$0.05 | 4.875% | $0.63 | $0.63 | $1.26 |
| $0.05/$0.10 | 5.3125% | $0.63 | $1.26 | $1.89 |
| $0.10/$0.25 | 5.3125% | $0.63 | $1.26 | $2.51 |
Fixed Limit
| Stakes | 2 Player % / Cap | 3-4 Player % / Cap | 5+ Player % / Cap |
| --- | --- | --- | --- |
| $0.02/$0.04 | 4.5% / $0.01 | 4.5% / $0.01 | 4.5% / $0.01 |
| $0.04/$0.08 to $0.05/$0.10 | 6.075% / $0.06 | 6.075% / $0.06 | 6.075% / $0.06 |
| $0.10/$0.20 | 6.075% / $0.15 | 6.075% / $0.15 | 6.075% / $0.15 |
| $0.25/$0.50 | 6.075% / $0.23 | 6.075% / $0.23 | 6.075% / $0.23 |
| $0.50/$1 | 6.075% / $0.55 | 6.075% / $0.55 | 6.075% / $0.55 |
| $1/$2 | 2.70% / $0.69 | 4.05% / $0.95 | 5.40% / $1.09 |
| $2/$4 | 2.70% / $0.69 | 4.05% / $0.95 | 4.05% / $1.70 |
| $3/$6 | 2.70% / $0.69 | 4.05% / $2.71 | 4.05% / $4.06 |
Euro Games
No Limit and Pot Limit*
| Stakes | % Rake | 2 Player Cap | 3-4 Player Cap | 5+ Player Cap |
| --- | --- | --- | --- | --- |
| €0.01/€0.02 | 4.375% | €0.32 | €0.32 | €0.32 |
| €0.02/€0.05 | 5.1875% | €0.63 | €0.63 | €0.95 |
| €0.05/€0.10 | 5.625% | €0.63 | €0.95 | €1.57 |
| €0.10/€0.25 | 5.625% | €0.63 | €0.95 | €1.89 |
| €0.25/€0.50 | 6.25% | €0.89 | €0.89 | €2.26 |
| €0.50/€1 | 6.25% | €1.13 | €1.13 | €2.82 |
| €1/€2 | 6.25% | €1.45 | €1.45 | €3.13 |
*Excluding No Limit and Pot Limit Omaha and Omaha Hi/Lo Micro Stakes
No Limit and Pot Limit Omaha and Omaha Hi/Lo Micro Stakes
| Stakes | % Rake | 2 Player Cap | 3-4 Player Cap | 5+ Player Cap |
| --- | --- | --- | --- | --- |
| €0.01/€0.02 | 4.125% | €0.32 | €0.32 | €0.32 |
| €0.02/€0.05 | 4.875% | €0.63 | €0.63 | €0.95 |
| €0.05/€0.10 | 5.3125% | €0.63 | €0.95 | €1.57 |
| €0.10/€0.25 | 5.3125% | €0.63 | €0.95 | €1.89 |
Embark on PokerStars' Grand Tour and Win Big
PokerStars Tempest Hold 'em
| Buy-In | Blinds | Ante | % Rake | 2 Player Cap | 3-4 Player Cap | 5+ Player Cap |
| --- | --- | --- | --- | --- | --- | --- |
| $0.50-$1 | $0.02/0.05/0.10 | $0.01/0.02/0.03/0.04 | 4.50% | $0.50 | $1.00 | $1.50 |
| $1-$2 | $0.05/0.10/0.20 | $0.02/0.04/0.06/0.08 | 5.00% | $0.50 | $1.00 | $2.00 |
| $2.50-$5 | $0.10/0.25/0.50 | $0.05/0.10/0.15/0.20 | 5.00% | $1.00 | $1.00 | $2.50 |
| $5-$10 | $0.25/0.50/1.00 | $0.10/0.20/0.30/0.40 | 5.00% | $1.25 | $1.25 | $2.75 |
| $10-$20 | $0.50/1.00/2.00 | $0.20/0.40/0.60/0.80 | 5.00% | $1.50 | $1.50 | $3.50 |
| $25-$50 | $1.00/2.50/5.00 | $0.50/1.00/1.50/2.00 | 5.00% | $2.00 | $2.00 | $4.50 |
Swap Hold 'em
| Stakes | % Rake | 2 Player Cap | 3-4 Player Cap | 5+ Player Cap |
| --- | --- | --- | --- | --- |
| $0.01/$0.02 | 4.375% | $ 0.39 | $ 0.39 | $ 0.39 |
| $0.02/$0.05 | 5.1875% | $ 0.63 | $ 0.63 | $ 1.26 |
| $0.05/$0.10 | 5.625 % | $ 0.63 | $ 1.26 | $ 1.89 |
| $0.10/$0.25 | 6.25 % | $ 0.63 | $ 1.26 | $ 2.51 |
| $0.25/$0.50 | 6.25 % | $ 1.26 | $ 1.26 | $ 3.13 |
| $0.50/$1 | 6.25 % | $ 1.57 | $ 1.57 | $ 3.45 |
| $1/$2 | 6.25 % | $ 1.89 | $ 1.89 | $ 4.39 |
PokerStars Fusion
| Stakes | % Rake | 2 Player Cap | 3-4 Player Cap | 5+ Player Cap |
| --- | --- | --- | --- | --- |
| $0.01/$0.02 | 4.375% | $ 0.39 | $ 0.39 | $ 0.39 |
| $0.02/$0.05 | 5.1875% | $ 0.63 | $ 0.63 | $ 1.26 |
| $0.05/$0.10 | 5.625% | $ 0.63 | $ 1.26 | $ 1.89 |
| $0.10/$0.25 | 6.25% | $ 0.63 | $ 1.26 | $ 2.51 |
| $0.25/$0.50 | 6.25% | $ 1.26 | $ 1.26 | $ 3.13 |
| $0.50/$1 | 6.25% | $ 1.57 | $ 1.57 | $ 3.45 |
| $1/$2 | 6.25% | $ 1.89 | $ 1.89 | $ 4.39 |
Split Hold'em
| Stakes | % Rake | 2 Player Cap | 3-4 Player Cap | 5+ Player Cap |
| --- | --- | --- | --- | --- |
| $0.01/$0.02 | 4.375 % | $ 0.39 | $ 0.39 | $ 0.39 |
| $0.02/$0.05 | 5.1875 % | $ 0.63 | $ 0.63 | $ 1.26 |
| $0.05/$0.10 | 5.625 % | $ 0.63 | $ 1.26 | $ 1.89 |
| $0.10/$0.25 | 5.625 % | $ 0.63 | $ 1.26 | $ 2.51 |
| $0.25/$0.50 | 6.25 % | $ 0.95 | $ 0.95 | $ 2.51 |
| $0.50/$1 | 6.25 % | $ 1.26 | $ 1.26 | $ 3.13 |
| $1/$2 | 6.25 % | $ 1.57 | $ 1.57 | $ 3.45 |
Showtime Hold'em
| Stakes | % Rake | 2 Player Cap | 3-4 Player Cap | 5+ Player Cap |
| --- | --- | --- | --- | --- |
| $0.01/$0.02 | 4.375 % | $ 0.39 | $ 0.39 | $ 0.39 |
| $0.02/$0.05 | 5.1875 % | $ 0.63 | $ 0.63 | $ 1.26 |
| $0.05/$0.10 | 5.625 % | $ 0.63 | $ 1.26 | $ 1.89 |
| $0.10/$0.25 | 5.625 % | $ 0.63 | $ 1.26 | $ 2.51 |
| $0.25/$0.50 | 6.25 % | $ 0.95 | $ 0.95 | $ 2.51 |
| $0.50/$1 | 6.25 % | $ 1.26 | $ 1.26 | $ 3.13 |
| $1/$2 | 6.25 % | $ 1.57 | $ 1.57 | $ 3.45 |